Temple Street Eatery (Fort Lauderdale)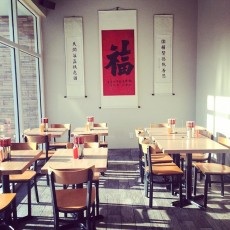 Temple Street Eatery, 416 North Federal Highway, Fort Lauderdale, Florida 33301, (754) 701-0976.
Let's see…
Temple Street Eatery- Asian Fusion meets Latin Comfort Food meets American Comfort Food…order at the counter/delivered to table.
You can check menu/prices/other info at templestreeteater.com.
For your convenience, below-Jeff Eats has "copied" Temple Street Eatery's menu.
For the review, Jeff Eats, Mrs. Jeff Eats and a couple of friends recently gave Temple Street Eatery a shot for lunch. Ordered "items" chicken dumplings, pork dumplings, southeast chicken salad, katsu burger, bun rice noodle bowl, bulgolgi cheesteak sandwich… Now you guys know that Jeff Eats doesn't like to do "pecking orders"–and Temple Street Eatery helped me out–in that every "item" was OK–but not one "item" had me craving-shall we say round 2! By the way, extremely pleasant wait-staff, nice modern fast food decor-price points that need a drop of tweaking to the downside.
Let me wrap this up for you,
Temple Street Eatery definitely has an eclectic menu. The joint just didn't do-it for me!
Finally, since food "reviewing" is merely a subjective head game…and my head maybe in a different place than yours is–Temple Street Eatery is open Sunday-Thursday 11am-10pm, Friday-Saturday 11am-11pm.
*****
OUR MENU
SMALL BITES
Kimchi Quesadilla | $7
Lemongrass grilled chicken, kimchi, caramelized onion, cheddar jack, gochujang cream, guacamole,pico de gallo
Chicken Wings | 6 pcs – $7 | 12 pcs – $11
Choice of sweet soy glaze, Asian buffalo, sweet chili BBQ or Buddha wing sauce
Edamame Falafels | $5
Chickpea, tofu, garlic, scallion, curry aioli
Wonton Tacos | $8
Poached shrimp, guacamole, lettuce, gochujang cream, pineapple salsa
Crispy Shrimp | $11
Tempura shrimp, calamansi aioli, jalapeño
DUMPLINGS
Choice of Sauce |
Buddha dumpling sauce, dan dan sesame sauce or traditional sauce
Chicken Dumpling | 4 pcs – $5 | 8 pcs – $8
Ground chicken, onion, napa cabbage
Shrimp Dumpling | 4 pcs – $5 | 8 pcs – $8
Minced shrimp, house seasoning
Pork Dumpling | 4 pcs – $4 | 8 pcs – $7
Ground pork, napa cabbage
Vegetable Dumpling | 4 pcs – $3.5 | 8 pcs – $6.5
Edamame, carrot, vermicelli noodle, baby bok choy, tofu
Buddha Mix | 4 pcs – $4.5 | 8 pcs – $7.5
A sample of one of each dumpling
RICE BOWLS
Bibimbap Rice Bowl | $10
Choice of rice | Inari, mushroom, pickled vegetables, scallion, marinated bean sprout, fried egg, gochujang sauce
Bulgogi Rice Bowl | $12
Choice of rice | Marinated beef sautéed with onion, carrot, scallion, shoga
Buddha Bowl | $11
Choice of lemongrass chicken, tofu or pork | Substitute shrimp (+$2) | Mushroom, pickled vegetables, marinated bean sprout, fried shallot, scallion
NOODLES
Miso Noodle Soup | $11
Choice of ramen or soba | Pork belly, scallion, bean sprout, seasoned egg, pork miso broth
Shoyu Noodle Soup | $10
Choice of ramen or soba | Inari, bean sprout, mushroom, scallion, seasoned egg, soy broth
Wonton Noodle Soup | $12
Ramen, shrimp dumpling, scallion, bok choy, chicken broth
Bún Rice Noodle Bowl | $11
Choice of lemongrass chicken, tofu or pork | Substitute shrimp (+$2) | Rice noodle, pickled vegetables, marinated bean sprout, lettuce, mint, cilantro, cucumber, nuoc cham vinaigrette
SALADS
Buddha Salad | side $5 | regular $8
Mixed greens, carrot, cucumber, cherry tomato, red onion, radish, pickled vegetables, peanut dressing Add lemongrass chicken or pork (+$2) |
Add shrimp (+$3)
side
Beet Salad | $9
Mixed greens, candied walnut, cherry tomato, radish, goat cheese, fried shallot, sesame dressing
Southeast Chicken Salad | $9
Shredded chicken, jalapeño, cabbage, mint, cilantro, radish, red onion, fried shallot, nuoc cham vinaigrette
SANDWICHES
Add a side or Buddha Salad | $3
Bulgolgi Cheesesteak | $10
Marinated beef, sautéed carrots, onions, scallions, provolone cheese
Katsu Burger | $9
Panko-crusted burger, Asian slaw, pineapple slice
Banh Mi | $9
Choice of lemongrass chicken or pork | Pickled vegetables, jalapeño, cucumber, cilantro aioli
Edamame Falafel Pita | $6
Pita, hummus, cherry tomato, cucumber, mixed greens, gochujang cream, goat cheese
SIDE DISHES
Asian Slaw | $5
Cabbage, carrots, sesame dressing
Lemongrass Fries | $5
Seasonal Vegetables | $5
Edamame | $5
Choice of seasoned salt or sweet sambal
BEVERAGES
Fountain Drinks | $2.5
Coke, Fanta, Orange, Diet Coke, Ginger Ale, Sprite
Bottled Water (Still or Sparkling) | $2.5
Home Brewed Iced Tea | $2.75
Craft Beer | Varies
Ask us about our seasonal selection
Saké | Varies
Ask us about our seasonal selection
Wine
Oyster Bay Merlot
Save Me San Francisco Pinot Noir
Trivento Malbec
Francis Coppla Pinot Gris
Clifford Sauvignon Blanc
Dividing Rod Chardonnay