White Castle Cheeseburgers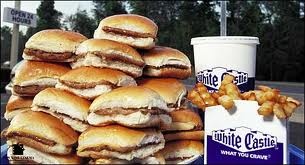 * White Castle Cheeseburgers.
There are no White Castle restaurants in the State of Florida.
Thus the only way to "get" White Castle sliders is to -1. Travel to a White Castle in another state, 2. Have someone in another state ship you sliders, 3. Have someone in another state personally bring sliders to you in Florida, 4. Buy "frozen" White Castle sliders at Florida joints like Publix or Sam's Club.
To make a long story short, yesterday-right out of nowhere, Jeff Eats was craving White Castle Cheeseburger-sliders. Knowing that only #4 above would work-I drove over to Publix and bought "me" 2 boxes of 6-White Castle Cheeseburgers for $3.49 per box.
Just wanted you guys to know, that Jeff Eats -still got it…between 6:46pm and 7:09pm I downed 9 of the little suckers. Now nothing for nothing, when I was 25 years old, I could easily do 15 sliders if not more in 23 minutes…but hey (God be willing) I'm gonna be 65 next month-so let's give credit where credit is due!
Finally, the frozen microwavable/or pan heated White Castle sliders came "close" to tasting like the real deal, but nothing and I mean nothing beats the hot-right-off-the-grill sliders that White Castle restaurants turn out.
Consider "this" story a public service announcement -if one day -you finding yourself craving White Castle SLIDERS.