Super Arepa Miami (Miami)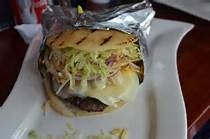 ***** Super Arepa Miami, 14417 Southwest 42nd Street, Miami, Florida 33175, (786) 447-8626.
The other day Jeff Eats had lunch at Super Arepa Miami and this Venezuelan fast food joint blew me away! Absolutely loved it.
Real simple concept, order at/pickup at the counter. Super Arepa's menu is loaded with arepas/hamburgers/patacones/burritos/salads/pepitos/hot dogs.
Now! If you guys did as well as Jeff Eats did in High School Spanish-then you probably got no idea as to what patacones and pepitos are…
Patacones: fried plantain slices.
Pepitos: roasted pumpkin seeds.
Now! If you guys don't know what arepas, burritos, plantains are- GOOGLE!-and if you don't know what hamburgers/salads/hot dogs are, you are really-really in bad shape!
Like I said before the linguistics class,
Jeff Eats recently had lunch at Super Arepa Miami "trying" charcoal roasted pork arepa ($4.99), charcoal grilled hamburger/French fries ($5.50), charcoal grilled burrito ($4.99), ham & cheese arepa ($4.99) and I gotta tell you, everything was dynamite!
At this stage of this game…let me send you to Super Arepa Miami's website mysuperarepa,com for menu/prices/other info.
Every so often Jeff Eats comes across a joint that absolutely kills it and Super Arepa killed!
The food, the service, the vibe/décor, the portion size, the prices–make Super Arepa Miami an absolute must try!
Super Arepa Miami is open Monday-Saturday 11am-1am, Sunday noon-midnight.