Crazy Fingers (Meatball Room-Boca Raton)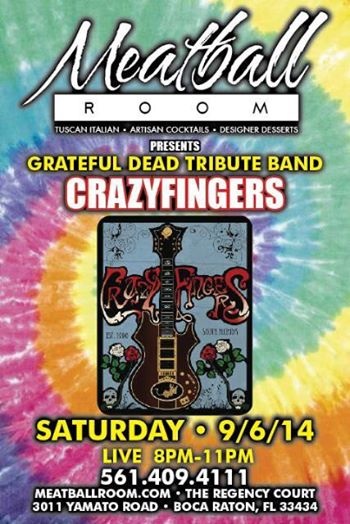 * Crazy Fingers.
Jeff Eats maybe going out on a limb here-but I don't think so…I'm sure you guys know who the Grateful Dead is?
With that in mind, tomorrow night, Saturday -September 6, 2014 at 8pm– CRAZY FINGERS one of Florida's top rated Dead-tribute bands will be giving a free-outdoor concert at Meatball Room, 3011 Yamato Road, Boca Raton (561) 409-4111-www.meatballroom.com.
For the record, Jeff Eats has seen Crazy Fingers something like 5 times-having first "caught" the band on July 4, 2008 at-American Bar Restaurant & Grill in Deerfield Beach (reviewed 7/5/2008) and these guys-really do a nice job covering one of the greatest Rock bands of all-time. You can checkout Crazy Fingers at crazyfingers.net.
In case you maybe wondering, Jeff Eats "only" saw Grateful Dead "live" once, that being on April, 18, 1971 in Cortland, New York…I will tell you, it was quire a concert. Here's that night's playlist…Cold Rain & Snow, Me & My Uncle, Bertha, Me And Bobby McGee, Next Time You See Me, China Cat Sunflower, I Know You Rider, Casey Jones Sugar Magnolia, Second That Emotion, Truckin', Hard To Handle, Loser, Playin' In The Band, Around & Around, Good Lovin'. The New Riders of the Purple Sage (NRPS) opened for the Dead.
So…
Assuming you are into this Dead-stuff, this free outdoor show should be a-load of fun. Just so you know, there is plenty of standing room–outdoor tables are set for those eating at Meatball Room. There is also an outdoor bar-if that's your game!