China Fortune (Miami)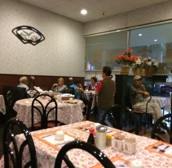 China Fortune, 5761 Northwest 7th Street, Miami, Florida 33126, (305) 261-9988.
China Fortune…"mom & pop" Chinese joint.
You can check menu/prices at miamichinafortune.com.
China Fortune has the expected "American" Chinese food stalwarts. A recent lunch had Jeff Eats doing, wonton soup, egg roll, bbq spare ribs, sweet & sour chicken, shrimp with lobster sauce.
Now you know and I know that this food reviewing gig-is totally subjective…so what you like, I might hate and vice versa. That said, I'm kinda thinking that you and I would agree-no matter what, that the soup was as bland as could be, that the egg roll was soggy, that the ribs were tough, that the sweet & sour chicken looked and tasted as if it had been refried and the shrimp dish-like the soup- was just bland.
Now nothing for nothing, maybe China Fortune's "stuff" tastes better the next-day right out of the refrigerator…but Jeff Eats didn't take a doggy bag home, so I'll never know the answer to the morning-after question.
Real fast…Who had the hit August 1973- record- The Morning After?…Sheesh, Maureen McGovern!
China Fortune is open Monday-Saturday 11:30am-10pm, Sunday 12:30pm-10pm.