La Ferme (Boca Raton)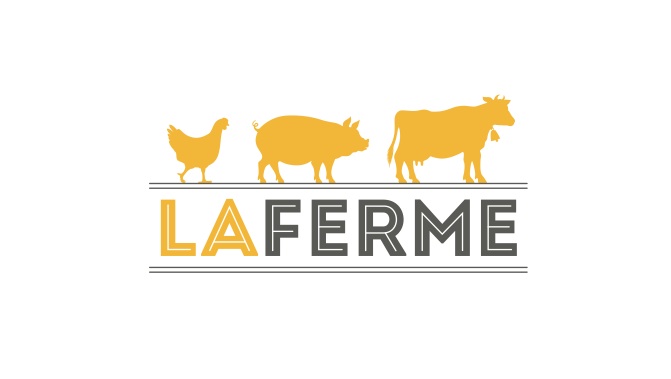 * La Ferme.
Literally just this second, Jeff Eats received the "below" pr-piece.
You guys can read it for yourselves…
In a nutshell, William Walden the former Executive Chef of short- lived-Bistro Gastronomie has now teamed up with new partners-with plans to open a new French restaurant-La Ferme in the "old" Bistro Gastronomie digs
For what it's worth, Bistro Gastronomie (see Jeff Eats' story: 12/13/13) "struckout"- Chef Walden and his new teammates are -now up at bat…same location, miniscule decor remodel, revamped menu/price.
The big question, has Walden learned to hit the curveball?
We'll soon find out.
Jeff Eats will keep you guys posted…
*****
La Ferme in Boca Raton
BOCA RATON, FL, September 2, 2014 – Well-known Manhattan restaurateurs
Bobby, Laura and Alexandra Shapiro have teamed with Chef William Walden on La Ferme, a French bistro in West Boca Raton. La Ferme (laferme.kitchen) will open mid-September and will feature Modern French Bistro Cuisine served in a fun, upbeat and exciting setting. The menu will have a strong emphasis on fresh ingredients and the restaurant will swource its own oysters and mussels. The restaurant will be approachable and reasonably priced.
The Shapiros currently own and operate two Manhattan locations of Flex Mussels, and in the past have owned Vanessa, Texarkana, La Louisiana, Hoexters, Uzie's, and Gianni's in both Southstreet Seaport, New York and Baltimore, Maryland. In Prince Edward Island, Canada they owned and operated Dayboat and the original Flex Mussels. Additionally, Bobby was David Liederman's partner in David's Cookies.
Chef William Walden has been a renowned chef and restaurateur for 30 years in the Washington, DC area and was featured on the Great Chefs TV series. Chef Walden served with the late Francois E. Haeringer at L'Auberge Chez Francois in Great Falls, Virginia, consistently ranked the #1 restaurant in the region and frequented by U.S. Presidents, Cabinet Secretaries and other notables. A native of a Loudoun County, Virginia farm, he first learned to cook at age 8 in his grandmother's grocery store, McClain's Grocery. Chef Walden was appointed executive chef for Giant Gourmet by the late Israel Cohen at age 18 and served as an owner of two esteemed Washington-area restaurants and was, most recently, with Bistro Gastronomie in Boca Raton.
"Chef Walden is one of the nation's leading chefs and we are thrilled that he will lead our culinary team at La Ferme," said Bobby Shapiro. "La Ferme will feature his delicious French dishes and our menu will also have small plates and bar bites to make this an everyday restaurant. It will be more creative, fun and interactive, with a particular focus on health conscious execution."
"Working with Bobby and the Shapiro family is an absolute inspiration," said Chef Walden. "Some of the nation's most influential chefs have graced the kitchens of the Shapiro family's restaurants, and Bobby is one of the few people I have encountered whose passion for great food parallels mine."
The menu will adjust with seasons but items will include: Burgundy Escargots sizzling in their shells a la Persillade; Classic French Onion Soup with King Cut Gruyere; Grilled Octopus, Salad Nicoise with seared tuna; Seafood Plateaus featuring Maine Lobster, East Coast Oysters, Gulf Shrimp, Crab Louis, and Florida Stone Crab Claws (in season); King Crab Legs; Prince Edward Island Mussels done three ways: Dijonaise, Billi Bi, or Thai Curry; Natural Foie Gras Torchon; authentic Moroccan Tagines (Chicken, Lamb, and Vegetable); all natural beef; Hanger Steak Frites; Chateaubriand Bouquetier; Slow Braised Short Ribs; Beef Bourgignon a la Julia Child; Steak Tartare; Roast Chicken for two with Potato Pie and Accoutrements; and Fresh Skatefish Au Beurre Noir.
Shutter Design Associates, based in Wilton Manors, handled La Ferme's design. La Ferme, a 120 seat 3,000 square foot restaurant, with indoor and outdoor seating as well as a large bar area, is located at 9101 Lakeridge Blvd., off of Yamato Road and just West of Lyons Road in West Boca Raton. The restaurant is the site of the former Bistro Gastronomie, where Chef Walden served as executive chef. The restaurant will feature an excellent wine collection with a variety of estate grown selections.
La Ferme is open daily for dinner from 5 to 10 p.m. Sunday-Thursday and 5 to 11 p.m. Friday and Saturday, and will feature happy hour specials, Monday – Friday from 4 to 6 p.m. (bar only). The restaurant accepts all major credit cards and reservations by phone or through OpenTable. For more info call 561.430.3731, visit the website laferme.kitchen or email info@laferme.kitchen.