Classic Albums Live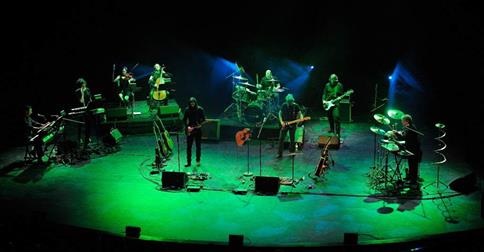 * Classic Albums Live.
Jeff Eats recently caught a concert performed by CLASSIC ALBUMS LIVE.
In a nutshell-an absolutely amazing group of musicians "play" a well known Rock N Roll album-note for note, cut for cut, live!
Trust me on this one, this Classic Albums Live isn't-Joe the Barber or Fred the AC guy-picking up a few bucks playing in a band on the weekend…just so you understand what's going on "here"- Classic Albums Live has a huge number of members- which musicians perform -depends on location and the covered album selected.
DON'T BELIEVE OLD JEFF EATS AS TO HOW GOOD THIS "GROUP" IS- then go to classicalbumslive.com and checkout Classic Albums Live for yourself!
Classic Albums Live is one of the best tribute/cover acts that I have ever seen!
Classic Albums Live performs all over the United States and Canada.
Printed below is the band's upcoming schedule.
For our purposes, the band has shows scheduled in Florida- September 11-14, 2014 and October 9-12, 2014.
One final thing, checkout Gold Star Events (reviewed 8/26/14) goldstar.com–it has discounted tickets for Classic Albums Live concerts.
*****
09/06/14 The Beatles – Abbey Road The Colonial Theatre Pittsfield, MA
09/11/14 Prince – Purple Rain Parker Playhouse Fort Lauderdale, FL
09/12/14 Prince – Purple Rain The Lakeland Center Lakeland, FL
09/13/14 Prince – Purple Rain King Center Melbourne, FL
09/13/14 The Beatles – Abbey Road Ravinia Festival Highland Park, IL
09/14/14 Prince – Purple Rain Capitol Theatre Clearwater, FL
10/09/14 Meat Loaf – Bat Out of Hell Shenkman Arts Centre Ottawa, ON
10/09/14 The Beatles – The White Album Thrasher-Horne Center for the Arts Orange Park, FL
10/10/14 The Beatles – The White Album The Lakeland Center Lakeland, FL
10/10/14 Meat Loaf – Bat Out of Hell Rose Theatre Brampton, ON
10/11/14 The Beatles – The White Album King Center Melbourne, FL
10/12/14 The Beatles – The White Album Ruth Eckerd Hall Clearwater, FL
10/16/14 Meat Loaf – Bat Out of Hell The Playhouse Fredericton, NB
10/17/14 Meat Loaf – Bat Out of Hell Confederation Centre of the Arts Charlottetown, PE
10/17/14 Led Zeppelin – I Georgian Theatre Barrie, ON
10/18/14 Led Zeppelin – II Lester B. Pearson Civic Centre Elliot Lake , ON
10/18/14 Meat Loaf – Bat Out of Hell Imperial Theatre Saint John, NB
10/22/14 The Beatles – Abbey Road Sean O'Sullivan Theatre / Brock University St. Catharines, ON
10/23/14 Meat Loaf – Bat Out of Hell Camenco Capitol Arts Centre Port Hope, ON
10/24/14 Meat Loaf – Bat Out of Hell Sanderson Centre PAC Brantford, ON
10/24/14 The Beatles – Abbey Road Hettenhausen Center for the Arts Lebanon, IL
10/25/14 Meat Loaf – Bat Out of Hell Centennial Hall London, ON
10/25/14 The Beatles – Abbey Road Governors State University PAC University Park, IL
10/29/14 Meat Loaf – Bat Out of Hell Richmond Hill PAC Richmond Hill, ON
10/30/14 Meat Loaf – Bat Out of Hell Oakville Centre PAC Oakville, ON
10/30/14 Prince – Purple Rain ArtsQuest Centre at Steel Stacks- Musikfest Cafe Bethlehem, PA
10/31/14 Prince – Purple Rain Mohegan Sun Casino Uncasville, CT
11/14/14 Led Zeppelin – II Centre in the Square Kitchener, ON
11/14/14 Pink Floyd – Dark Side of the Moon Sangamon Auditorium Springfield, IL
11/15/14 Fleetwood Mac – Rumours Rialto Square Theatre Joliet, IL
11/21/14 Pink Floyd – Dark Side of the Moon Burlington Performing Arts Centre Burlington, ON
11/21/14 The Who – Who's Next Massey Hall Toronto, ON
11/22/14 The Beatles – Abbey Road Gallo Center for the Performing Arts Modesto, CA
11/29/14 Meat Loaf – Bat Out of Hell Showplace Performance Centre Peterborough,
12/05/14 The Beatles – Abbey Road Grand Theatre Kingston,
12/13/14 The Beatles – The White Album Oakville Centre PAC Oakville,
12/18/14 Pink Floyd – Wish You Were Here Imperial Theatre Sarnia,
12/20/14 Pink Floyd – Dark Side of the Moon Milton Centre for the Arts Milton,
01/16/15 Pink Floyd – Dark Side of the Moon Paramount Theatre Rutland,
01/30/15 The Beatles – Let It Be Roy Thomson Hall Toronto,
03/06/15 Led Zeppelin – Physical Graffiti Massey Hall Toronto,
04/25/15 Pink Floyd – Wish You Were Here Massey Hall Toronto,