DISH OF THE WEEK (Sunday- 8/31/14- Laspada's Original Hoagies- Boca Raton)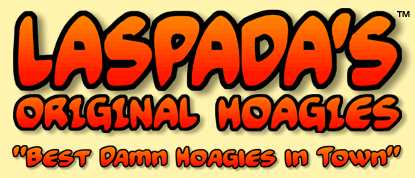 ***** DISH OF THE WEEK (Sunday-8/31/14).
One of Jeff Eats' favorite menu items.
12″ Chicken Salad Sub (Laspada's calls "them" hoagies)
$9.85.
Laspada's Original Hoagies
2240 Northwest 19th Street
Boca Raton (there are 4 other South Florida locations)
(561) 393-1434
laspadashoagies.com
Latest Review: 7/18/08
Trust Jeff Eats when I tell you- that 12″ sub can easily feed 3 people. Just between you guys and Jeff Eats, Laspada's chicken salad is absolute dynamite, but that's just between us.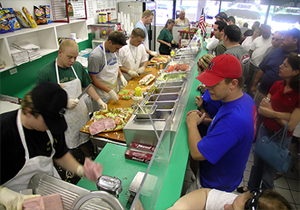 Posted July 18, 2008
***** Laspada's Original Hoagies, 4346 South Grape Drive, Lauderdale-by-the-Sea, Florida 33348 (954) 776-7893.
Laspada's is a "sub-grinder-hoagie-heroes"!(or whatever you call them) joint. There are currently 3 South Florida locations…Lauderdale-by-the-Sea, Davie and Coral Springs. The Lauderdale joint is the original location…I must have gotten stuff there at least 20 times…I have also been to the Coral Springs location twice…Never been to the Davie store.
The guys who own Laspada's are "masters" at making phenomenal-fantastic hoagies. Take a look at Laspada's website at www.laspadashoagies.com for menu/pricing…also take a look at the photos of the stores and sandwiches being made.
If you want to eat absolutely incredible stuff, then you absolutely want to get to a Laspada's. The joints are open 7-days a week for lunch and dinner. Keep in mind, that there is very limited seating and the game is primarily takeout.