Bedner's Farm Fresh Market (Boynton Beach)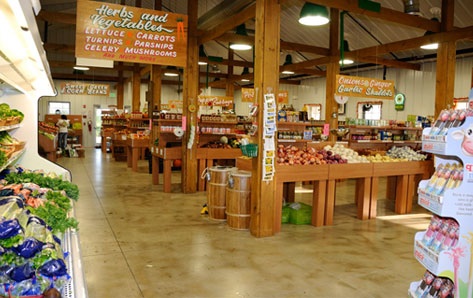 Bedner's Farm Fresh Market, 10066 Lee Road, Boynton Beach, Florida 33473, (561) 733-5490.
Let me start by saying that although Bedner's has been around since 1960-and the Jeff Eats Family has lived in South Florida since 1991…Jeff Eats and Mrs. Jeff Eats have only "been" to Bedner's twice-April 5, 2014 and today, August 30, 2014…
Here's the skinny, as far as a being a year-round-green market, this joint stinks.
No fooling here- for Mrs. Jeff Eats on TWO OUTINGS to have found not one fruit, vegetable, baked item to buy says-something. Trust me, the lady is the consummate shopper and for her to tell me that Publix has better quality/less expensive/better selection "stuff" tells this boy all he needs to know!
Just for the record, on Saturday and Sunday- food truck Porky and Beth's BBQ
(reviewed 4/5/14) is on Bedner's premises- that's why we were at Bedner's today-picking up dinner.
Look! I know -the joint has been around for 54 years…all I can tell you is "what" I think and I think that if you want top notch fruits, vegetables, baked goods, juices- this ain't the place to get them! You wanna pick strawberries or do a hayride with the kids-I get it!- but as for "table" food, nope!
Now you know and I know that Jeff Eats is just "my" opinion- so if you care to look into Bedner's further…bedners.com.