The Marvelous Wonderettes (Broward Center For The Performing Arts-Fort Lauderdale)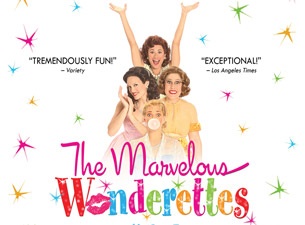 * The Marvelous Wonderettes.
Jeff Eats is hearing that The Marvelous Wonderettes is an absolute blast.
Tickets just went on sale.
Just so you know, there is very limited seating for this show-so if you want to go, don't dilly-dally around!
*****
The Marvelous Wonderettes
Date: October 2 – November 23, 2014
Time: Show times vary
Tickets: $45.00 at ticketmaster.com
Venue: Abdo New River Room (Broward Center For The Performing Arts)
On Sale: August 22, 2014
This smash Off-Broadway musical sensation takes you to Springfield High School's 1958 prom where you meet the Wonderettes: four girls with hopes and dreams as big as their crinoline skirts with amazing voices to match. This candy-coated romp back in time will knock your (bobby) socks off with '50s and '60s hits such as "Lollipop," "Dream Lover," "Stupid Cupid," "Lipstick On Your Collar," "Hold Me, Thrill Me, Kiss Me," "It's My Party" and more than 20 other jukebox classics. You've never had this much fun at a prom and you will never forget this musical trip down memory lane! Don't miss what the New York Times calls, "One irresistible musical! An utter charm bomb!" The Associated Press raves, "The fun never stops."
Join us for drinks and tapas as we debut The New River Room Theater with an artful menu that offers guests table service starting one hour prior to the performance and during intermission. Make it a girls' night out or bring your date, coworkers and friends for an evening of food, fun and theater!