Growing Up With Don Pardo!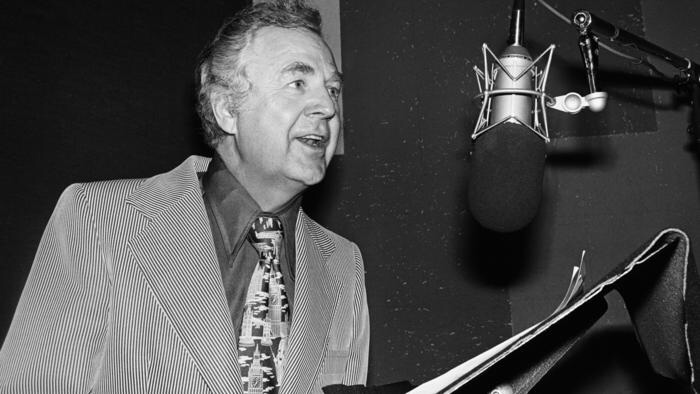 * Growing Up With Don Pardo!
Just read on Bloomberg News and AOL.com that Don Pardo died yesterday.
When you really think about it, we all grew up with him.
*****
BLOOMBERG NEWS
Don Pardo, the often heard, rarely seen announcer of the NBC television network for six decades, whose baritone voice was part of long-running shows such as "The Price is Right," "Jeopardy!" and "Saturday Night Live," has died. He was 96.
Pardo died yesterday in Tucson, Arizona, the New York Times reported, citing Dona Pardo, his daughter.
A bridge between the eras of radio and television, Pardo joined the National Broadcasting Co. in 1944 to introduce shows and voice commercials on radio. Gradually, reluctantly, he moved to early television, which, he said, often consisted of introducing B movies.
"I really despised doing those things because I still wanted radio — that's where the money was," Pardo said in a 2006 interview with the Archive of American Television.
His television work increased as screens proliferated in the early 1950s, his assignments including "The Colgate Comedy Hour" and the game show "Winner Take All," hosted by Bill Cullen.
Pardo teamed with Cullen again on "The Price is Right," which ran on NBC from 1956 to 1963. He chose to stay at NBC as "The Price is Right" moved to ABC. CBS reintroduced the show in 1972, with Bob Barker as host, and it went on to become the longest-running game show in U.S. television history.
On-Air Credit
From 1964 to 1975, Pardo handled announcing duties for the original production of "Jeopardy!" The show was created by Merv Griffin and hosted by Art Fleming, who cited Pardo by name — "Thank you, Don Pardo" — after his introduction.
Pardo announced the cast and guests of "Saturday Night Live" from its first episode in 1975, missing only the seventh season, when the show tried another announcer, Mel Brandt. Even after his retirement from NBC in 2004, Pardo traveled to New York City to voice the introduction — "Live, from New York, it's Saturday Night!" More recently, he recorded it from his home in Arizona.
"I won't let him quit," the show's creator, Lorne Michaels, told the Academy of Television Arts & Sciences in 2010, when it inducted Pardo into its Hall of Fame. "He's long past retirement, but I won't acknowledge it. I can't imagine the show without him — and as long as he's there, I stay young."
Dominick George Pardo was born in 1918 on Feb. 22 — George Washington's birthday, the inspiration for his middle name — in Westfield, Massachusetts. He was the middle child of three to parents Dominick Pardo, a baker, and the former Walerya Romaniak.
Name Change
Growing up in Norwich, Connecticut, he acted in high-school productions and won an award for public speaking. His first radio job was at WJAR-AM in Providence, Rhode Island. He said he chose to be "Dom" rather than "Dominick," and eventually gave in to how most people heard it, "Don."
On a visit to NBC's studios in New York, he was offered a try-out that won him a job, starting in June 1944.
His early announcing assignments for TV included Sid Caesar's "Your Show of Shows" and "Caesar's Hours."
In November 1963, he was on duty when an NBC news editor handed him a bulletin, freshly torn from the news wire, that President John F. Kennedy had been shot in Dallas. Pardo read the alert over the air:
"In downtown Dallas, President Kennedy was shot today just as his motorcade left downtown Dallas. Mrs. Kennedy jumped up and grabbed Mr. Kennedy. She cried, 'Oh no.' The motorcade sped on. A photographer said he saw blood on the president's head. It was believed two shots were fired. Keep tuned to your NBC station for the later news."
In the 1980s, Pardo announced for the afternoon newscast, "Live at Five," of NBC's New York City affiliate.
Pardo was married to the former Catherine "Kay" Lyons, who died in 1995. He is survived by his three daughters, Paula, Dona and Katherine, as well as his two sons, David and Michael, the New York Times reported.
© Copyright 2014 Bloomberg News
*****
AOL.com
And he was an integral part of "Saturday Night Live" for heralding the cast's names to kick off each show, which led former cast member Jimmy Fallon to comment later, "Nothing is like the moment when Don Pardo says your name." Pardo continued at "SNL" through the end of last season, when he performed the introductions on the finale in May.
His was no ordinary voice and he guarded it closely, with cough drops always at the ready.
"My voice is my Achilles' heel," Pardo said in a 1985 interview with The Associated Press. "When I get sick, it's always my voice."
Dominick George Pardo was born in Westfield, Massachusetts, on Feb. 22, 1918, and grew up in Norwich, Connecticut.
One of his first jobs was that of ticket-taker at a local movie theater; even then, his voice was commanding.
"I'd go out there with a cape and say: `Standing room only in the mezzanine. Immediate seating in the balcony.'"
His father, Dominick, owned a small bakery and had wanted his son to join the business. But Pardo followed his own dream and, after graduating from Boston's Emerson College in 1942, began his vocal career at radio station WJAR in Providence, Rhode Island.
Two years later, he met a supervisor at NBC who hired the young Pardo immediately upon hearing his voice. He moved to NBC's New York affiliate, and never left the network.
Pardo made his mark right away, reading news dispatches on the radio filed from the front lines during World War II. After the war, he became an announcer for such shows as the "Arthur Murray Party," `'Colgate Comedy Hour" and "Your Show of Shows."
In 1954, he was brought in to announce "Winner Takes All," beginning a long run in game shows. His voice was heard on the "The Price is Right" in its early years, and he was the announcer on the original "Jeopardy!" (1964-75), hosted by Art Fleming.
Then in 1975, NBC launched "Saturday Night Live" with Pardo as its announcer, introducing him to a new generation of viewers with a voice as magnificent as ever – although, on opening night, he botched one of the credits. Instead of saying "The Not Ready for Prime Time Players," Pardo introduced the show's new comedy troupe as "The Not for Ready Prime Time Players." But with a voice like his, any name sounded impressive.
Aside from Season 7, when he was displaced, Pardo remained the "SNL" announcer for decades.
He also introduced sportscaster Len Berman's "Spanning the World" compilations of funny sports moments, a regular feature on the "Today" show. ("Tune in next time … if there IS a next time.")
In between working on all these shows, Pardo often spent several hours a day in an NBC sound studio, letting viewers know before each break to a commercial that the last program was brought to them by a certain advertiser. As such, he was one of the last network "booth announcers" working a regular daily shift, a classic broadcasting duty that fell prey to the modern age of easily pre-recorded messages.
And every weekday afternoon for several years in the 1980s, Pardo would quickly clad himself in a tie and blazer to step on camera long enough to announce the local New York station's "Live at Five" newscast – although Pardo's vocal alchemy rendered it as "Liiiiiiive at Fiiiiiive!"
Pardo retired from NBC in 2004.
"But (executive producer) Lorne Michaels called me soon after and asked if I would continue for three more weeks, so I did," Pardo told the AP in 2010. "Then he called and asked if I would do five more, and so on. I never really left."
For several years, Pardo commuted from Tucson each week the show aired. He arrived to open the show in Rockefeller Center's fabled Studio 8H, just as he had always done, then caught a returning flight. At the end of the show on Feb. 23, 2008, he was brought on camera to blow out the candles of a birthday cake in celebration of his 90th birthday.
In later years, he recorded his introductions from home, where he died peacefully Monday afternoon, said his daughter Dona Pardo.
During his career, Don Pardo appeared in several movies, mostly as himself or an announcer like himself, including "Radio Days," Woody Allen's celebration of the Golden Age of broadcasting, in which Pardo played a game show host. He also made a guest appearance on Frank Zappa's 1978 album, "Zappa in New York," and "Weird Al" Yankovic's 1984 album, "In 3-D."
In 2009, he made a guest appearance on the NBC sitcom "30 Rock."
And his services were also retained for commercials. In a mid-1990s spot for long-distance provider MCI, he played host of the "AT&T True-False Quiz." Pardo posed the question whether "every AT&T customer gets true savings." A buzzer went off. "False!" he boomed. "Forty million save nothing."
In 2010, he was inducted into the Academy of Television Arts and Sciences' Hall of Fame.
Pardo is survived by five children.
.
.
.
.