Air Supply (Mardi Gras Casino-Hallandale Beach)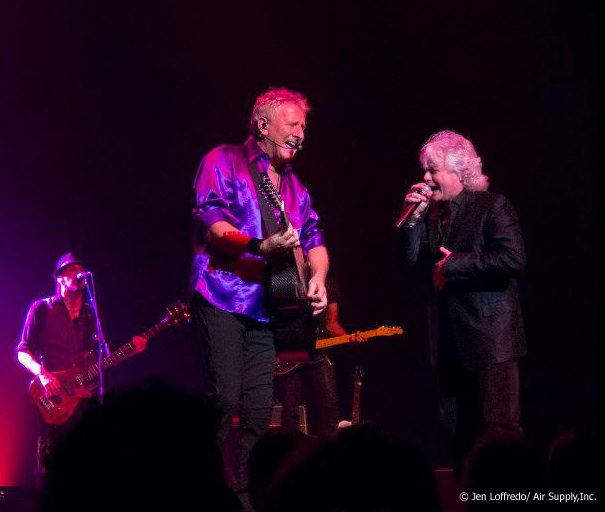 * Air Supply.
Literally, just this second- got the "below" pr-piece from the Mardi Gras Casino in Hallandale Beach.
Real fast…on November 22, 2014 Air Supply-the great 1970's soft rock band will be in concert.
For what it's worth, Jeff Eats saw Air Supply last year-and the band put on a great show. You can check Air Supply out at airsupply.com.
Jeff Eats has been to number of Mardi Gras'-Grandstand Concerts and EVERY SEAT IS GOOD!- Throw in great lighting/staging/sound production and not attaching all kinds of nonsensical "fees" to ticket purchases…and you got a great venue for an outdoor concert.
*****
Mardi Gras Casino Presents
Australian Soft Rock Duo, Air Supply!
Saturday, November 22, 2014
Time: 8pm (Doors open at 7pm)
Location: Grandstand
Cost: General Admission – $15 / Premium Seating – $30 / VIP – $50
For Ticket Information, visit www.mardigrascasinofl.com
Mardi Gras Casino invites you to listen to Australian Soft Rock Duo, Air Supply perform live in the Grandstand on Saturday, November 22nd at 8pm!
Graham Russell & Russell Hitchcock met on May 12, 1975, at rehearsals for "Jesus Christ Superstar" in Sydney, Australia; they became instant friends with their common love for The Beatles and, of course, singing.
In 1980 "Lost in Love" became the fastest selling single in the world, leaping to the top of all of the charts and was named Song of the Year. Seven top-five singles later, Air Supply at that time had equaled The Beatles' run of consecutive top five singles. The albums Lost in Love, The One That You Love, Now & Forever, and The Greatest Hits sold in excess of 20 million copies.
The trademark sound of Russell Hitchcock's soaring tenor voice and Graham Russell's simple yet majestic songs created a unique sound that would forever be known as Air Supply.
Mardi Gras Casino is located at 831 North Federal Highway on the corner of US-1 and Pembroke Road. The casino offers over 70,000 square feet of casino excitement featuring over 1,000 of the hottest Las Vegas-style slot machines, including Progressive slots, virtual roulette and blackjack, as well as The Dog Pound, Mardi Gras' smoker-friendly slot area; 30 action-packed poker tables; simulcast and greyhound racing; entertainment; and various dining options. For more information, call 954-924-3200 or visit www.mardigrascasinofl.com. Become a fan on Facebook at http://www.facebook.com/mardigrascasino or follow us on twitter at http://www/twitter.com/MardiGrasFl.
###