I Love Lucy Live on Stage (The Adrienne Arsht Center for the Performing Arts-Miami)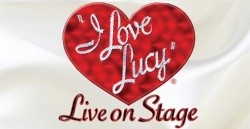 * I Love Lucy on Stage.
Just heard about this Restaurant.com "offer."
Jeff Eats hasn't seen the show, but I'm hearing terrific things about it.
Jeff Eats and Mrs. Jeff Eats are definitely going to see this one…
If you want to buy this-deal…specials.restaurants.com.
*****
You will absolutely LOVE this dinner and ticket package by Restaurant.com's Nights Out in Miami! Playing for a limited run in the fall at The Adrienne Arsht Center for the Performing Arts, experience "I Love Lucy Live on Stage", the hit stage show adapted from the most beloved program in television history! Packages are $69-$74 and include a ticket and a $25 Restaurant.com eGift Card, a $108.80 package value.
TV Guide calls "I Love Lucy Live on Stage" "the most entertaining stage production I've seen in years – including Broadway!" and you can see it from orchrestra or Tier 2 seats on the following select performances:
Tuesday, September 30 at 8pm
Wednesday, October 1 at 8pm
Thursday, October 2 at 8pm
Sunday, October 5 at 7pm
L.A. Examiner's Ron Irwin says it is "an absolutely brilliant and utterly engaging tribute to that iconic television show!" while Chicago Tribune's Chris Jones raves "a big variety show for your money."
Note: This dinner and ticket package, part of Restaurant.com's Nights Out in Miami. Packages are very limited and will sell out.
Details:
"I LOVE LUCY LIVE ON STAGE" at THE ADRIENNE ARSHT CENTER FOR THE PERFORMING ARTS:
Limited number of tickets are available for each show and may sell out.
There is a $4.50 processing fee per ticket
Tickets will be delivered within 2 weeks of the performance to the address supplied via U.S. mail.
Seats will be assigned at the discretion of the show/box office within the Orchestra or Tier 2 section of the theatre.
Seats are guaranteed to be together when in the same purchase. Seats assigned in rows in front or behind the same seats are considered together, but almost all seats are side by side including all pairs.
Tickets cannot be set up for will call.
Offer is non-refundable and cannot be combined with any other offer or applied to previously purchased tickets.
No cash value or cash back. Subject to availability and while supplies last.
This is a date-specific event. Not valid after show date. All sales final.
Only valid for U.S. mailing addresses.
RESTAURANT.COM:
$25 Restaurant.com eGift Card will be emailed to you within 2 weeks from the date of purchase to the email address associated with your Specials by Restaurant.com Account.
Restaurant.com eGift Cards Never Expire.
May be redeemed solely for services at www.restaurant.com/redemptions.
Have no cash value and are not redeemable for cash at any time.
Must be redeemed online for restaurant-specific certificates.
Resale is prohibited unless authorized by Restaurant.com.
This eGift Card cannot be brought directly into restaurants and must be redeemed online.
About I Love Lucy Live on Stage in Miami
It's 1952 and you are a member of the Desilu Playhouse studio audience awaiting the filming of two hilarious and oh-so-familiar I Love Lucy episodes. A charming host entertains and enlightens you to the behind-the-scenes filming process of this brand new thing called "television," the Crystaltone Singers perform advertising jingles in perfect 50s style harmony and the sidesplitting antics of America's favorite foursome – Lucy, Ricky, Fred and Ethel – are presented live on stage and in color!
It's a one-of-a-kind theatrical experience TV Guide's William Keck calls "the most entertaining stage production I've seen in years – including Broadway!" The truth is in the title – whether young or old, everybody really does love Lucy!
I Love Lucy Live on Stage in Miami
Address:
The Adrienne Arsht Center for the Performing Arts
1300 Biscayne Blvd.
Miami, FL, 33132, US
Customer Support: 1-800-979-8985
Email: specials@restaurant.com