Nikko's Egg City (Haines City)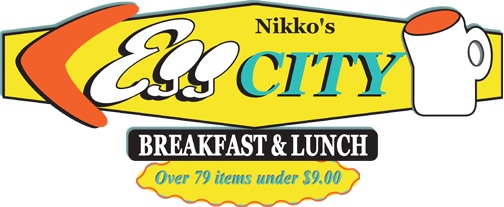 ***** Nikko's Egg City, 35510 Highway 27, Haines City, Florida 33844, (863) 353-2698.
Nikko's Egg City…breakfast-lunch joint-1950's retro decor-counter/booth/table seating.
Nikko's menu is loaded with breakfast stuff, sandwiches, burgers, salads, entrees.
Nikko's is open Tuesday-Sunday 7am-2pm, closed on Monday, breakfast is served all-day, lunch from 11am-2pm.
Before we get "started" here, Jeff Eats doesn't care for the name Nikko's Egg City one bit! The Nikko's part is okay-but what's with the Egg City? Real simple, this is a breakfast -lunch joint…nothing for nothing, Egg City's name probably throws a ton of people off as to what's going on there. Maybe Nikko's Diner, but no way Nikko's Egg City. Maybe Nikko's Breakfast & Lunch, but no way Nikko's Egg City!
Anyway,
Recently ate breakfast at Nikko's Egg City and I gotta tell you that Jeff Eats really enjoyed the joint. The dishes "tried"- western omelette, cinnamon apple stuffed french toast, strawberry waffle were all delicious. Prices were reasonable, portions large, service was as friendly as could be.
You can check menu/prices/other info at nikkoseggcity.com.
Wrapping things up,
Like I said 4-seconds ago, Jeff Eats really enjoyed Nikko's. Just so you know, I only did breakfast-but I'm thinking that based on the omelette/french toast/waffle–Nikko's probably does a real nice job with its lunch stuff.
Nikko's is a real good breakfast-lunch diner.