The Doo Wop Project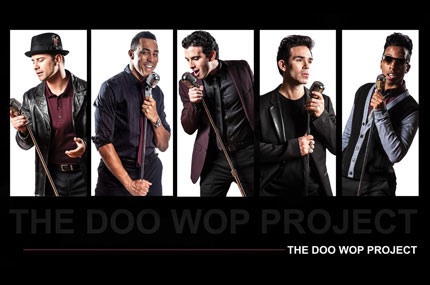 * The Doo Wop Project.
There is a really cool-act coming into South Florida in early February, 2015. I don't have all the dates, but if you can (that's assuming you like Doo Wop-style music)- you gotta catch The Doo Wop Project.
The group describes itself as:
"The Doo Wop Project begins at the beginning, tracing the evolution of Doo Wop from the classic sound of five guys singing tight harmonies on a street corner to the biggest hits on the radio today. Throughout the show DWP takes audiences on a journey from foundational tunes of groups like the Crests, Belmonts and Flamingos through their influences on the sounds of Smokey Robinson, the Temptations, and the Four Seasons all the way to Michael Jackson, Jason Mraz and Amy Winehouse. Featuring current and former stars of Broadway's smash hits Jersey Boys, Beautiful, and Motown: The Musical, the Doo Wop Project brings unparalleled authenticity of sound and vocal excellence to recreate—and in some cases entirely reimagine—some of the greatest music in American pop and rock history>"
Like I said a few seconds ago, I don't have all the dates, but I do know that The Doo Wop Project will play the Century Villages (2/3, 2/5, 2/8) and the Duncan Theatre (at Palm Beach State College on 2/6/15). I also understand that the Lyric Theatre in Stuart just booked the group. but I don't have the date.
If you want to see The Doo Wop Project-you are going to have to do a drop of homework here…keep an eye on the group's website rjprod.com for exact dates/times/locations.
Just so you know, The Doo Wop Project has 5 lead singers who are backed by a 4 piece band. The 5-are either current or former stars of Broadway's- Jersey Boys, Motown and Beautiful.
I am telling you, The Doo Wop Project puts a whole new-fresh spin on "Doo Wop." Checkout The Doo Wop Project on You Tube–and you'll see what Jeff Eats is talking about.