PGA Pig Out Gourmet Food Truck Expo & Custom Car Show (Palm Beach Gardens)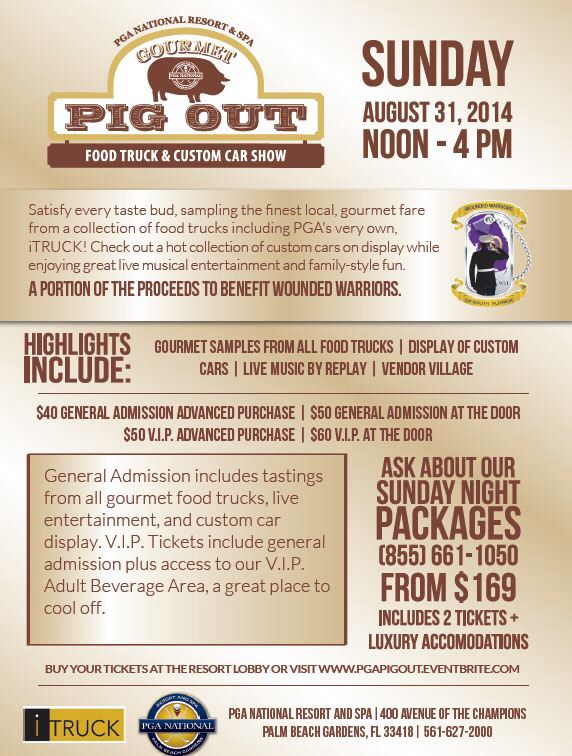 * PGA Pig Out Gourmet Food Truck Expo & Custom Car Show.
Jeff Eats just received the following press release from PGA National Resort And Spa.
Just wanted you guys to know that Jeff Eats and Mrs. Jeff Eats-as my Great Aunt Alva use to say – "God be willing"…plan to be at the Pig Out.
Not to sound like a shill or nothing, but PGA really knows how to run events like this.
The bet here… Gonna be a great Sunday Afternoon!
*****
PGA National to Host Labor Day Weekend 'Gourmet Food Truck Expo'
Event Benefits Wounded Warriors of South Florida, Features Top Area Gourmet Food Trucks, Custom Car Show, Live Music
(PALM BEACH GARDENS, Fla.) — PGA National Resort & Spa announces its "Gourmet Pig Out" featuring the finest culinary fare from select area food trucks on Sunday, August 31, 2014 (noon – 4 p.m.).
The family-friendly afternoon additionally features an exotic car display, vendor village, gourmet offerings from Whole Foods Market, and live music from The Replay. General admission tickets ($40 in advance, $50 at the door) include a hearty menu item from each of a collection of the most popular local gourmet food trucks in the area. V.I.P. tickets ($60 in advance or $70 at the door) include all tastings as well as access to unlimited tastings at the Adult Beverage tent and 30 minute early access. The Heineken Tasting Pavilion for VIP ticketholders will offer unlimited tastings of bourbons, whiskeys and beers. Kids' tickets allowing them a children's option at each truck are $20 for children 10 and over plus a fun kids zone will be a new addition to the event.
For more information and tickets visit: www.pgapigout.eventbrite.com.
A portion of the proceeds benefits Wounded Warriors of South Florida and its noble cause of empowering injured service veterans. August 31st in appreciation of our Military, Active and Retired Military personnel can enjoy a room rate starting at $89 per night including one ticket (resort fees, and taxes additional). Two free tickets to the "Gourmet Pig Out" are included with a two-night stay. Call 888.974.3885 for reservations.
Guests will have the chance to experience PGA National's own gourmet iTRUCK offering tasty finger foods including Short Rib Mac and Cheese, Blazing Buffalo Bites, and its signature Parmesan White Truffle Fries.
iTRUCK periodically serves as the "92nd Hole" for the resort's five outstanding golf courses, caters local affairs and occasionally joins major festivals throughout Broward and Palm Beach counties.
For those seeking accommodations, PGA National is offering a special "Stay the Night" rate of $169 including two tickets. Call 855.661.1050 for reservations.
"The Gourmet Pig Out is the perfect way to enjoy the awesome food trucks of our area and as well the exciting debut of iTRUCK," says Donald Young, PGA National's Executive Chef. "Come have a great Sunday afternoon and help support the Wounded Warriors and its wonderful work with our South Florida veterans."
The "Gourmet Pig Out" sponsors include Palm Beach Gardens Medical Center, Palm Beach Children's Hospital, Gourmet Truck Expo, Whole Foods Market, Heineken, Yelp, and Localdines.com
For more PGA National Resort & Spa information: www.pgaresort.com or call 561.627.2000.