Little Louie's Italian Kitchen (Miami)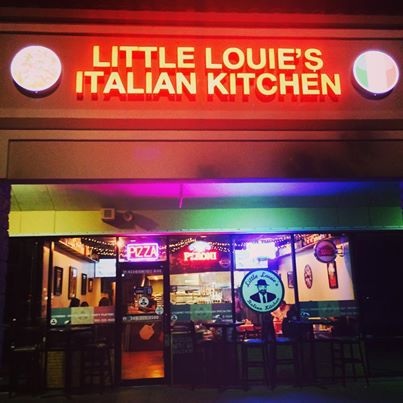 ***** Little Louie's Italian Kitchen, 4254 Southwest 152nd Avenue, Miami, Florida 33185, (305) 225-1500.
Got a really good "mom & pop" red sauce Italian joint for you…Little Louie's Italian Kitchen in Miami.
Handful of tables-and absolutely positively nothing fancy going on here. As the Dave Clark sang, "The name of the game, is I like it like that."-and Little Louie's is exactly "how" Jeff Eats likes his "mom & poppers."
Now you know and I know- that "mom & pop" red sauce Italian joints are a dime a dozen down here in South Florida- with that in mind, "we" can afford to be kinda picky when it comes to laying down our hard earned cash..
Jeff Eats, Mrs. Jeff Eats and a couple of friends recently gave Little Louie's a shot for dinner-and I gotta tell you, the calamari fritti, Caesar salad, lasagna bolognese, veal parmigiana, frutti de mare, cheese pizza that were delivered to our table were all-right on the money. Us guys know-that pecking orders are silly, but I gotta tell you that the frutti de mare was outrageously good and the thin/crisp/sweet sauce pizza was absolute dynamite. Now don't get me wrong, everything else was delicious, but these two "dishes" were homeruns!
As expected, Little Louie's menu has the full boat of expected appetizers, pastas, pizzas, subs, entrees (that come with soup or salad/garlic rolls/pasta side ). Check menu/prices/info at littlelouiesitaliannkitchen.com.
Like I said a few seconds ago, "a dime a dozen"…
Let me wrap this up for you. If Little Louie's was by my house-Jeff Eats would be a very steady eat-in/takeout customer. The stuff I "had" ran circles around the-food served up by most of the "mom & pop" red sauce joints down here in South Florida.
Little Louie's Italian Kitchen is open Sunday-Thursday 11am-10pm, Friday-Saturday 111am-11pm.