Tastemakers at Mizner Park presents "Rock, Roll & Stroll" (Boca Raton)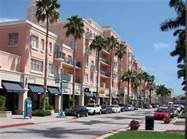 * Tastemakers at Mizner Park presents "Rock, Roll & Stroll."
Just this very minute, received the following press release (below) about an event -Tastemakers at Mizner Park presents "Rock, Roll & Stroll" set for September 17, 2014.
Give a read…
Just a gut call, but based on the venue, restaurants, bands and companies involved- "Rock, Roll & Stroll" is gonna be an absolute blast. That $30 ticket price looks like a real good deal to me!
*****
BOCA RATON, FLORIDA (July 6, 2014) – Tastemakers at Mizner Park presents "Rock, Roll & Stroll," a fabulous progressive food and cocktail tasting featuring many of center's restaurants and live rock music, on Wednesday, September 17 from 6 p.m. to 9:30 p.m. at Mizner Park in Boca Raton.
"We are very excited about this year's new 'rock & roll' theme with two live bands playing throughout the evening and are pleased to partner with the City of Boca Raton," said Barbara Finn, marketing manager for Mizner Park. "This event has been so successful in years past we extended it into the Mizner Park Amphitheater to include a separate craft beer tasting and additional entertainment."
The Mizner Park Amphitheater will be host to craft beer tastings from the Florida Beer Company, Gold Coast Distributors, Harpoon Brewery, and the New Belgium Brewery, and music by rock band, Amp'd.
Tickets, available at www.miznerpark.com starting August 1, are $30 per person and include one tasting and select beverage at each participating restaurant with presentation of the VIP Ticket Book. Tickets may also be purchased at each participating restaurant. In addition, the ticket booklets will include re-usable exclusive offerings from various Mizner Park eateries valid August 1 through October 31, 2014.
Featured Mizner Park "Tastemakers" are:
Dubliner – Shepherd's Pie with Guinness Mac & Cheese and Irish soda bread, paired with a special "Black Velvet," combination of Guinness and Cider.
JAZZIZ Nightlife – Beef Carpaccio with horseradish aioli, black truffle and homemade potato chips served with a Blood Orange Cilantro Margarita.
Kapow! – Banh Mi Vietnamese Baguette (slow-cooked pulled pork, buttery spicy aioli, cilantro, pickled carrots, daikon and jalapeno) with a Spicy Lover cocktail (Partida Reposado Tequila, cucumber, lime juice, tabasco green sauce, cilantro, and organic agave nectar)
Max's Grille – Crispy Duck Spring Rolls with spicy vegetables, soba noodles, pickled cucumbers, and Asian dipping sauce served with a Strawberry Saketini made with Stoli Vanilla Vodka, Tyku Sake and fresh strawberries.
Racks – The A+A Roll made with hamachi, jalapeno, spicy tuna, crispy shallot, cilantro and avocado with Boca Lemonade, a refreshing mix of Stoli Vodka and Tyku Lemonade.
Ruth's Chris – Mini Seared Ahi-Tuna complimented with Aspirated sauce with hints of mustard and beer, served with a Raspberry Rosemary Cosmo made with Absolut Raspberri, Cointreau, lime & cranberry juices, muddled raspberries and rosemary.
Tanzy – Housemade Ceder Plank Salmon with red pepper, lima bean, Israeli couscous and cucumber fennel salad paired with Prickly Pear Sour Sop Margarita mixed with cactus fruit, Florida Guanabana, hand-squeezed lime, El Jimador Tequila Reposado.
Truluck's – Fresh Seasonal Crab Claws served with Lagaria pinot grigio.
Uncle Julio's – Pineapple Bacon Guacamole & crumbled queso fresco paired with the popular Julio's Gold, Uncle Julio's special hand-shaken margarita.
Villagio – Eggplant Rollatini – braised eggplant stuffed with seasoned ricotta cheese with marinara, parmesan, and melted mozzarella; and the Acai Thini, a blend of Acai Vodka with Cointreau, sour mix and a touch of Blue Curacao.
Yard House – Ahi Poke Bowl – marinated raw Ahi and avocado with carrots, Daikon radish, macadamia nuts and wontons served with Lost Coast Tangerine Wheat Beer.