Medicare & Food!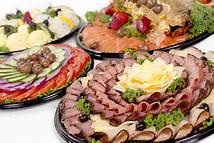 * Medicare & Food!
Last month Jeff Eats got a letter from Medicare.
In a nutshell the letter told me that effective October 1, 2014 I was eligible for medicare benefits.
After reading the letter, I turned to Mrs. Jeff Eats and said "I can't believe how old I'm getting."-now you know and I know that a couple of expletives were used-but this after all is a family read.
Now maybe it's just me, but after literally spending days on the computer/phone learning about Supplements G, F, C and all kinds of Advantage plans-I also decided to learn the intricacies of "Sitting Shiva."-just so you know, I appreciate that some of you folks are gonna have to Google the term-shiva…
By the way, if this "story" is too touchy of a subject for some of you guys-the suggestion is to stop reading…
Anyway,
Jeff Eats found this really cool site Shiva Connect (shiva connect.com) which has a load of info-on how to do a shiva "right."
So…
If this Supplement F thing doesn't quite workout for Jeff Eats…
Deli Platter and fish platters from Zinger's Deli in Boca Raton.
Bagels and Bialys from Bagel City South in Boca Raton.
Fruit baskets and pastries from The Boys Farmers Market in Delray Beach.
For Daughter Jeff Eats and Son Jeff Eats for "sitting around reminiscing about Jeff Eats' days"…
1. Pizza pies from Spadini's Mizner Pizzera in Boca Raton.
2. Chinese food from Bamboo Wok in Boca Raton.
3. Greek food from Chris' Taverna in Lake Worth.
4. Burgers and fries from Five Guys Burgers & Fries in Boca Raton.
5. Sushi from Japango's in Boca Raton.
You guys do know -that you can never be too prepared!
One final thing, if "this" actually happens, make sure Daughter Jeff Eats and Son Jeff Eats tell you the story as to how a rented Auto's GPS tried to make me drive into a lake in Connecticut. Great story!