Fotoboyz Events (Boynton Beach)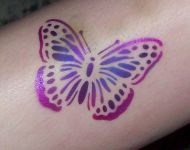 * Fotoboyz Events.
You guys do know that Jeff Eats and Mrs. Jeff Eats are very social animals…nothing for nothing, but we get invited to- way too many weddings, bar/mat mitzvahs, country club functions, anniversary parties, birthday parties, charity events, holiday parties but what is, is-so we dress up -go and "party" with people we basically don't even know! Trust me, when you get into that 60ish age group, you'll be invited to more "celebrations and parties" than you'll know what to do with.
Anyway,
Some events are better than others-now to the point of this rant…
Jeff Eats recently came across Fotoboyz Events- a Boynton Beach based event planning company that has some of the most innovative ideas, decorations and equipment that I've seen down here in South Florida. In the past year or so- I've "seen" these guys at four different events and I gotta tell you that Fotoboyz ran a great casino, made amazing videos, did great airbrush tattoos and had me shooting basketball as if I were Lebron Who!
So…
If the need ever arises for an event planner…
Fotoboyz Events (fotoboyz.com).
Boynton Beach Mall
801 North Congress Avenue
boynton Beach, Florida 33426
(561) 756-0663.