Five Guys Burgers and Fries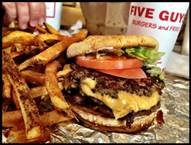 * Five Guys Burgers and Fries.
Reprinted below is a Jeff Eats' article which ran on November 2, 2006…at that time Five Guys was an "infant" fast-food burger chain.
Suffice it to say, that in the past 8 years or so–Five Guys has grown into a major player in the US fast food burger arena.
Over the years, Jeff Eats has eaten in "a" Five Guys numerous times…the food and service are consistently good. Prices are very reasonable .
If by chance you've never eaten in a Five Guys… check one-out!
Five Guys makes delicious burgers, fries and hot dogs!
***** Five Guys Famous Burgers and Fries
871 Village Boulevard
West Palm Beach, Florida 33409
(561) 640-9555
Let me put this to you as simply as I can…if you like HAMBURGERS & FRENCH FRIES…you absolutely have to try Five Guys Famous Burgers and Fries.
Five Guys is a fast-food chain. The last time I checked, it had 118 units (located predominantly in the northeast USA). Five Guys is planning a "major push" into South Florida, so don't be shocked to see "one" opening in your neighborhood real soon.
Five Guys makes one of the best fast-food hamburgers that you will ever taste. The same goes for its fries. The same also goes for its hot-dogs. Just so you know, this joint's menu has burgers, hot-dogs, fries and a grilled cheese sandwich on it "and that's it."
I am telling you, that you don't want to miss this one. For "right now" the only Five Guys in "our" South Florida area is in West Palm Beach. This joint is open 7 days a week, 11am-10pm.