Sweet Treat Weekend (PGA National-Palm Beach Gardens)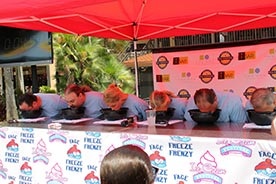 * Sweet Treat Weekend.
Got a real-cool event for you guys–especially you guys who have young kids or grand-kids…
Sweet Treat Weekend– at PGA National Resort & Spa in Palm Beach Gardens, August 8-10, 2014.
Jeff Eats is gonna let you read the "below" pr-piece I just received. Its got all of the information/details you'll need.
Before you scroll down to the pr-piece, I just wanted to tell you- that the PGA National Resort & Spa is one of South Florida's most gorgeous resorts. If you do some checking (see Jeff Eats' articles 5/24/13 & 6/4/13)- back on June 15, 2013 Jeff Eats and Mrs. Jeff Eats attended PGA's- Craft Beer & Burger Bash and I gotta- tell you that this joint runs first class events. Fabulous unlimited food and beer–terrific live music–organized professional staff in charge-these folks know what they are doing!
Now, take a look at Sweet Treat Weekend's events…
By the way, Jeff Eats and Mrs. Jeff Eats are gonna be there on Saturday, August 9th!
*****
FOR IMMEDIATE RELEASE:
July 16, 2014
PGA National Announces Ice Cream Festival Weekend
(PALM BEACH GARDENS, Fla.) — PGA National Resort & Spa will host its "Sweet Treat Weekend" (Aug. 8 – 10) highlighted by its "Sweet Treat Weekend Package" with accommodations included and an attempt to become the World Record title holder of "World's Largest Cupcake Wedding Cake" on Saturday, Aug. 9.
Whether a foodie, gourmet or just a lover of sweet treats, this unique weekend is packed with fun activities for the entire family. The three-day festival's schedule is as follows:
Friday, Aug. 8:
• The "Chocolate Affair at iBAR" (www.ibarchocolateaffair.eventbrite.com) from 7:30 pm – 9:30 p.m. ($25 per adult and $15 for children under 12) is a decadent evening to celebrate everything chocolate. This event ticket will satisfy all your chocolate cravings, along with a Sweetini drink coupon and an all you can eat chocolate buffet. There will be cascading milk and white chocolate fountains with fruit and other tasty pairings for dipping. Gourmet s'mores and popcorn stations, an old fashioned candy display, ice cream flavored designer wines, and an array of Luke's Ice Cream featuring our specialty Bear Trap Ice Cream.
Saturday, Aug. 9:
o A full roster of family fun for the day features: "The Great Cupcake Challenge" (www.cupcakechallenge.eventbrite.com) at the PGA Ballroom where history will be made as the "Worlds Largest Cupcake Wedding Cake" will be created (12pm – 4 p.m.). Current Guinness Book World record holder of the "World's Longest Ice Cream Sundae" of more than 1,249 ft, PGA National invites families to participate in cake building and decorating to construct a 12 ft. cupcake masterpiece ($30 in advance family admission, includes your cupcake decorating kit and a dozen and a half cupcakes, or $35 at the door). The family fun attractions include Train Rides, Bounce houses, Face painting, Arts and Crafts, Petting zoo, Balloon Artist, and Kids activities sponsored by Palm Beach Children's Hospital and The Home Depot. At 2 p.m The Great Cupcake Challenge will take place. All the participants are allowed to dig in and eat afterwards. Cupcakes will be donated by local businesses such as Main Street Bakery, The Cake Garden, and Johnson's Customs Cakes.
Sunday, August 10
o "The Big Taste" (www.thebigtaste.eventbrite.com) sponsored by Whole Foods will be held in the PGA Ballroom from 12:00 p.m. – 3 p.m. The cost is $25 per adult and $15 for children 12 and under. The event features The Big Taste Ice Cream Social which includes a souvenir ice cream bowl and spoon. It features over 40 gourmet varieties of gelato, sorbet, and ice cream flavors from Whole Foods Market. Along with numerous toppings like wasabi peas, nuts, sauces, fruits, candies and even candied bacon. From 2:30 – 3 there will be a Face Freeze Frenzy in PGA Ballroom where local celebrities participate in an ice cream eating contest to win for their favorite charity.
PGA National is additionally offering its three day, two night "Sweet Treat Weekend Retreat Package" from Friday, Aug. 8 through Sunday, August 10 for $169 per night and $99 for additional nights (subject to resort fee, taxes where applicable). It includes accommodations tickets for two adults and two children for "Chocolate Affair" at IBAR on Friday; family admission to Saturday's "The Great Cupcake Challenge"; and tickets for two adults and two children for the "Big Taste Ultimate Ice Cream Social" on Sunday.
"Our Sweet Treat Weekend´ is loaded with affordable fun for all and is going to be an absolute blast for the entire family," says Joel Paige, vice president and managing director. "While we're world-famous for golf, we're also quickly becoming known as one of the great family destinations in the U.S."
To book the "Sweet Treat Weekend Package": call 888.974.0125 or book online.