Don Peppe, Fiorentino's, New Corner, Embers (Ozone Park, Brooklyn)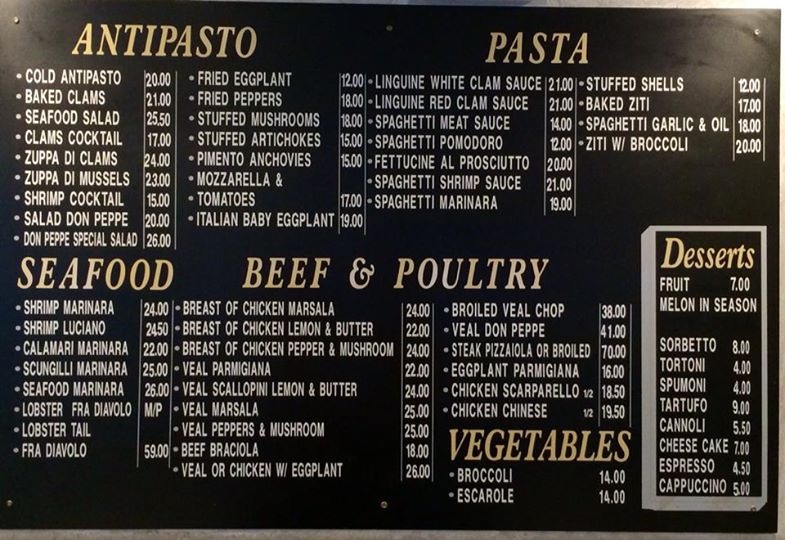 Don Peppe menu.
***** Don Peppe, Fiorentino's. New Corner, Embers.
Jeff Eats recently received the following e-mail…
*****
Hey Jeff,
My husband and I moved to Boynton Beach this past November.
We were both born and bred in Cleveland so south Florida is a whole new animal to us.
We came across JeffEats.com in December and have tried a number of your restaurant picks.
Our favorite food is Italian food.
We seem to have similar tastes as we agree with you that Matteo's in Boca Raton, Nino's in Boca Raton, La Pizzeria in Coral Springs make delicious food.
We know that you are originally from Brooklyn and based on that we wanted to pick your brain for a few seconds.
Next week we are going to be in NYC for 5 days on business.
We were wondering if you could recommend a few Italian 'joints' that we should checkout.
Not looking for anything fancy.
We will have a car so we can do some traveling if necessary.
Thanks for your help.
JNH
*****
JNH:
Just had a chance to ready your email.
Thanks for the kind words.
Here's some Italian "picks" for you…
1. Fiorentino's Ristorante…fiorentinosristrorante.com in Brooklyn.
2. Don Peppe…in Ozone Park.
3. New Corner…newcornerrestaurant.com in Brooklyn.
Though you didn't ask-here's a steakhouse for you- which is off the char!
4. Embers Steakhouse…embersbayridge.com in Brooklyn.
Just so you know, I've been eating at these 4-joints for 25+ years.
Don Peppe is kinda on the famous side–the other 3 are more "neighborhoodish"…trust me, all 4-will blow you guys away…the food is amazing!
Jeff Eats "visited" Don Peppe, Fiorentino's, New Corner and Embers-in the past 6 months and they are all amazing…
Enjoy!