Spadini's Mizner Pizzeria (Boca Raton)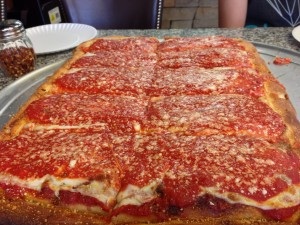 ***** Spadini's Mizner Pizzeria.
Real quick and simple story for you guys…
Back on July 2, 2014 South Florida blog-worstpizza.com did a story on Spadini's Mizner Pizzeria…the article focused on an upside down pizza that Spadini's makes. In a nutshell, the site raved about the pizza and gave it 7 out of 8 stars. If you know anything about worstpizza.com, you know that to get any-score even close to "perfection" is a near-impossibility. Now nothing for nothing, you and I both know that "rating systems" are usually meaningless–that said, over the years Jeff Eats has found worstpizza.com to have "tastebuds" similar to Jeff Eats' buds-so when it-yaps, I make mental notes!
Anyway,
You guys do know that-at heart- Jeff Eats is really a big old Sheep…
So last night, Jeff Eats and Mrs. Jeff Eats ate at Spadini's ordering an upside down pizza (sicilian pie/with cheese on the bottom and sauce on top) and I gotta tell you it was amazingly-delicious.
The pie ran $17.95. The pie is huge–I'm thinking it easily feeds 3-4 adults even if they are college football players who haven't eaten in 24 hours. Just so you know, last night's pie was "crafted" by pizza maker Mitch–and the crust, sauce, cheese and bake time were-right on the money!
I'll leave you guys to check worstpizza.com for its "story."
You can check JeffEats.com for other Spadini's articles.
In closing, this upside down pie is a must try!