TGI Fridays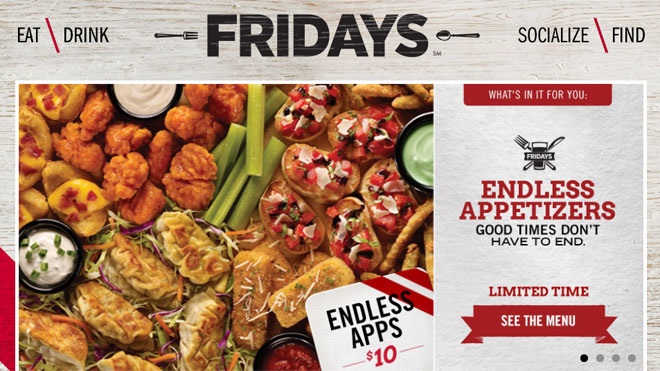 * TGI Fridays.
Jeff Eats just read the "below" story in USA TODAY (usatoday.com).
I know from your various "Comments"- that some of you guys are real prima donnas when it comes to eating in chain joints like TGI Fridays. So if you are one of the prima donnas, just "skip" this thing…as for the rest of you guys, this "deal" sounds real good to me. Just thinking of the "damage" that certain folks could do-there.
Finally, there are literally tons of TGI Fridays in South Florida, so you guys are-good-to go!
You can check tgifridays.com for menu/locations/other stuff.
Just a heads up, the promotion ends August 24, 2014 and the appetizers you can choose from are…loaded potato skins, pan-seared pot stickers, mozzarella sticks, garlic & basil bruschetta, Tuscan spinach dip, boneless buffalo wings, crispy green bean fries.
*****
TGI Fridays takes a chance on "endless" appetizers
There all-you-can eat buffets. No-limit salad bars. And even eat-'til-you-drop dessert bars.
But this may be a first for a national restaurant chain: endless appetizers.
TGI Fridays, whose signature item is arguably its appetizer line, today launches a high-profile but risky "Endless Appetizers" summer promotion that offers all-you-can-eat appetizers for $10 per person. Guests can choose one appetizer from a list of the the chain's most poplar starters — including loaded potato skins, boneless buffalo wings and mozzarella sticks — and receive unlimited refills. And while sharing is discouraged, that rule will not be enforced by servers, says Brian Gies, chief marketing officer at Fridays.
"At the end of the day, our servers aren't policemen," says Gies of the promo, which runs through Aug. 24. "We're not going to slap someone's hand if they reach over and share someone else's mozzarella sticks."
The unusual move comes at a time that business at Fridays — and much of the casual-dining industry — has been challenged for years. Many Millennials have moved away from the big casual-dining chains in favor of more esoteric, often-local options or more budget-conscious fast-casual chains, such as Panera or Chipotle.
For 40-year-old Fridays, which was one of the first national singles-bar-with-burgers chains, it's been tough keeping up with the times. The 900-unit global chain was recently sold to the private investment firms Sentinel Capital Partners and TriArtisan Capital Partners for a reported $800 million, even as it tries to update its menu, its stores and its image.
To lure customer back during the tough summer season, Fridays will offer the all-you-can-eat promo of its most popular appetizer selections. One restaurant analyst doubts it will work. "Never ever discount a signature branded item," says Chris Muller, hospitality professor at Boston University. Instead of attracting new business, he says, that typically rewards the frequent guest who already is willing to pay full price, but will gladly take the bargain instead.
The other problem, Muller says, is the guests who will try to take unfair advantage of the promotion.
"The risk comes when a crowd of six, or more, decides to get together and pool their resources, all ordering one item and sharing," he says. "Then it is easy to predict that everyone will order at least six refills each, with plates being passed around."
But that rarely happened when the promo was tested earlier this year in Cincinnati, says Gies. A very small percentage of customers tried anything like that, he says, and traffic and food and drink sales at the restaurant jumped nearly double-digits during the promotion.
Even then, says Gies, Fridays will respect whatever tack customers take — even if it bends the rules of the promotion. "No one should be embarrassed for coming into Fridays and ordering whatever they want to order," he says. "They will not be bawled out. There will be no policing or hand-slapping."