Anthony's Coal Fired Pizza (Miami Beach)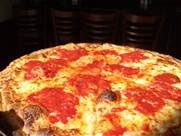 ***** Anthony's Coal Fired Pizza, 520 West Avenue, Miami Beach, Florida 33139, (305) 674-8100.
Way back on February 7, 2008 Jeff Eats did a story on Anthony's Coal Fired Pizza. If you like, you can read that story, if not, not!
In a nutshell-back in 2008 I was yapping about a new pizza segment "namely" coal fired pizza and how Anthony's Coal Fired Pizza was developing into a major player in Florida. In that story I also "reviewed" Anthony's food–really enjoying everything but finding its cheese pizza sauce- bitter -to my taste. I also commented that the pizza was good but far from being great.
Anyway,
Here we are 6 1/2 year later…Anthony's has loads of restaurants in Florida, not to mention Connecticut, Delaware, New Jersey, New York and Pennsylvania.
Just so you know, in the ensuing 6 1/2 years Jeff Eats may-be ate in "an" Anthony's 3-4 times.
To make a long story short,
Yesterday Jeff Eats and Mrs. Jeff Eats were in Miami Beach visiting family and we decided to give the Anthony's located at 520 West Avenue a shot…the joint has only been open a couple of months.
Great looking joint with dark wood look. Full bar area. Staff dressed in black looked great and the service was terrific. When we (party of 6) got there about 6:30pm Anthony's was kinda empty but by the time we left an hour later every table was taken. This location also has outdoor patio seating.
Food ordered…Italian salad, pork ribs with vinegar peppers, coal fired chicken wings, roasted cauliflower, meatballs with ricotta, cheese pizza, white pizza (ricotta, mozzarella, romano), soda by the bottle (forget about free refills).
First let me tell you, service couldn't have been better…salad, appetizers, pizza…in the right order-and timely done–water glasses were never even close to being empty. Second, this location has a real-good GM (Tolga Ece) who stopped by the table twice during the meal to see how ever-thing was going-I also noticed that he was all over the restaurant checking on tables etc. Third, the salad and appetizers were all- right on the money. Fourth, the white pizza was good. Fifth, the cheese pizza was fair-I found the sauce bitter.
Let's wrap this up…
All 6 of us enjoyed the meal.
By the way, you can check acfp.com for menu/prices/locations.
Finally, just like 6 1/2 years ago, the cheese pizza just-didn't do it for Jeff Eats. Goes to show you, if anything, that Jeff Eats and Anthony's are both consistent!
Anthony's Coal Fired Pizza is open Sunday-Thursday 11:30am-10pm, Friday-Saturday 11:30am-11:30pm.