MoonPie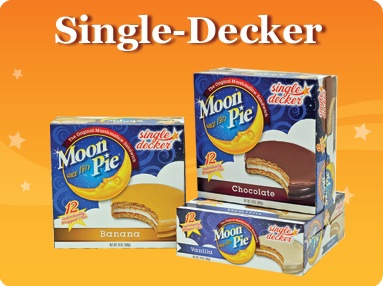 * MoonPie
I gotta tell you, Jeff Eats has some real good friends…thanks Melanie and Rhea!
Late yesterday-a Fedex truck dropped off a large box at my house…inside the box, 2 cases of MoonPies, that's 192 chocolate-vanilla-banana- MoonPie "cookies." For those of you who don't know what a MoonPie is– two round graham cracker cookies (approximately 4 inches) with a marshmallow filling between them -dipped in a flavored coating. For you guys who have never eaten a MoonPie-I would suggest that you check MoonPie.com and read about-one of most delicious "things" mankind has ever created for itself to eat.
To be perfectly honest with you, until yesterday, I can't exactly recall the last time I had a MoonPie. I'm thinking something like 11 years ago when I was in Pigeon Forge, Tennessee-would be about right.
By the way, if I'm Googling-right Walmart carries MoonPie…you can also order MoonPie at MoonPie.com.