Goldmans Bagel Deli (Key West)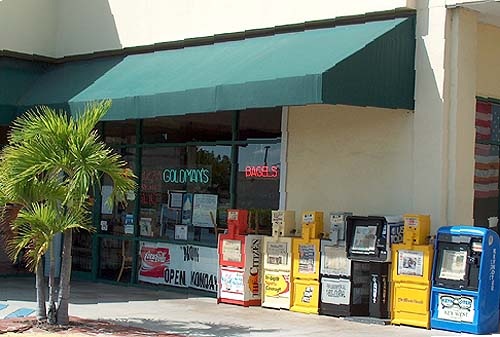 ***** Goldmans Bagel Deli, 2796 North Roosevelt Avenue, Key West, Florida 33040, (305) 294-3354.
Goldmans is a New York Kosher Style Bagel/Deli joint. Counter/booth/table seating.
Goldmans has all kinds of breakfast stuff, sandwiches, burgers, soups, salads…the joint boils/bakes its own bagels-there are 12 different types of bagels.
You can check menu/prices/photos at www.goldmansdeli.com.
Jeff Eats, Mrs. Jeff Eats and a couple of friends recently did lunch at Goldman's-and I gotta tell you… the pastrami on rye, corned beef on rye, chicken salad on a toasted everything bagel, tuna salad on a toasted whole wheat bagel, potato salad/cole slaw were-real good.
Based on "this" outing…Goldman's has to- rank right up there with the best of South Florida's bagel/deli joints.
Goldmans is a good joint to know about- if you live in Key West or just visiting-like we were.
Goldmans Bagel Deli is open Monday-Saturday 7am-4pm,Sunday 7am-3pm.