Replay America (July 6th-Hard Rock Live-Hollywood)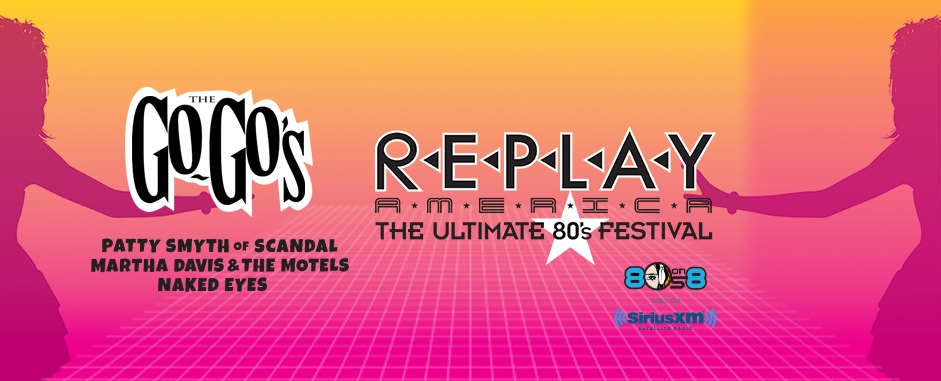 * Replay America.
Got something terrific for you 80's Rock N Roll fans out there.
The reprinted PR piece has all the details that you need.
Just checked, there are a ton of good seats still available.
* Please see Jeff Eats' June 4, 2013–Hard Rock Live -Tickets For Less Than Face…
*****
HOLLYWOOD, Fla. (May 6, 2014) – This summer, the "Replay America" tour will celebrate the biggest stars and hits from the '80s at Hard Rock Live at Seminole Hard Rock Hotel & Casino on Sunday, July 6, 2014 at 4 p.m. Tickets go on sale Friday, May 9 at 10 a.m. Fans will have access to presale tickets beginning Thursday, May 8 at 10 a.m. through Seminole Hard Rock Hollywood's Facebook, Twitter and Google+ pages.
This is the first time in the U.S. that these revered artists will share a stage and perform the biggest hits of the iconic era. Heading the tour is much loved 1980s all-girl pop pioneers The Go-Go's. Other artists include Patty Smyth of Scandal, Martha Davis and The Motels, Cutting Crew and Naked Eyes. The performers will play numerous hits including: Vacation, We Got The Beat, Our Lips Are Sealed, Head Over Heels, The Warrior, Goodbye To You, Only The Lonely, I Just Died In Your Arms, Always Something There To Remind Me, and many more.
Originally formed in 1978, The Go-Go's are an all-female American rock band that made history as the first all-female band that wrote their own songs and played their own instruments to top the Billboard album charts.
The band is best known for such hits as We Got The Beat, Our Lips Are Sealed, Head Over Heels and Vacation.
The group's debut album "Beauty and the Beat" topped the album charts for six weeks in 1982 and went double platinum in the U.S. The album is largely considered to be one of the cornerstones of American new wave music, and the popular album opener Our Lips Are Sealed has been named one of the "Top 100 Pop Singles of All Time" by Rolling Stone magazine.
Today, Beauty and the Beat remains one of the most successful debut albums, with an estimated three million copies sold. It was also included in Rolling Stone magazine's "500 Greatest Albums of All Time" list.
The Hollywood Walk of Famers continue to be one of pop-rock and new wave's top musical performers. They have sold more than seven million albums and will be inducted into the Hollywood Bowl Hall of Fame in June.
Patty Smyth of Scandal burst onto the scene in 1982 with a self-titled debut that turned out to be the best-selling EP in Columbia Records history, featuring the hit single, Goodbye to You. Her 1992 solo album turned out to be a career peak. Sometimes Love Just Ain't Enough, a song Patty wrote and featuring a performance by Don Henley, became Smyth's biggest hit ever. The song reached #2 on Billboard's Hot 100 and stayed there for six consecutive weeks, and was named BMI song of the Year.
Martha Davis and The Motels self-titled debut was greeted with positive critical reviews in 1979 and exploded in Australia on the strength of the #2 Pop single, Total Control. In 1981 their sophomore effort, "Careful," went Top 50. In 1982, the Motels released "All Four One" featuring smash single Only The Lonely which rocketed into the Top 10, and immediately propelled the album to gold status. 1983's "Little Robbers" featured top singles Suddenly Last Summerand Remember The Nights. In 1985, "Shock" produced the Top 20 hit, Shame. In 1987 Davis released her first solo effort, "Policy".
Cutting Crew released their debut album "Broadcast" which spawned their biggest hit (I Just) Died in Your Arms in 1986. The band follow up single I've Been In Love Before spent three weeks on the chart, leading to the group's Grammy Nomination for Best New Artist in 1987.
Naked Eyes rose to prominence in the early 1980s. Originally a duo, the band is known largely for its four top 40 singles including chart topper, (There's) Always Something There to Remind Me. Subsequent hits include Promises, Promise, When the Lights Go Out, and (What) In the Name of Love. In 2007, Naked Eyes released "Fumbling with the Covers", an acoustic album which consisted of covers of Bob Dylan, The Beatles and Elvis Costello, along with Naked Eyes hits.
Tickets cost $64, $54 & $44;* all seats are reserved and available at all Ticketmaster outlets online at www.myhrl.com, www.ticketmaster.com or charge by phone: 1-800-745-3000. Doors open one-hour prior to show start time. *Additional fees may apply.