Lola's on Harrison (Hollywood)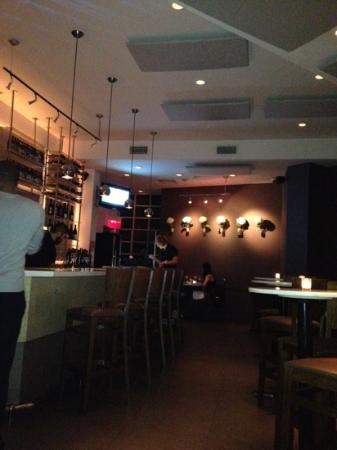 ***** Lola's on Harrison, 2032 Harrison Street, Hollywood, Florida 33020, (954) 927-9851.
For our purposes Jeff Eats is gonna call Lola's a "semi-upscale" American Style joint…full liquor bar/indoor-outdoor patio seating.
Right off the bat you should know that- Jeff Eats really enjoyed Lola's.
That said-I will tell you, that I found the menu a drop on the limited side… but there are enough appetizers, salads, entrees-so no body in your party is gonna starve or nothing.
You can check www.lolasonharrison.com for menu/prices/other stuff.
Just so you know, Lola's is strictly a dinner-deal, so don't plan on eating a leisurely Sunday lunch there.
A recent outing had Jeff Eats and Mrs. Jeff Eats "trying" Caesar Salad ($10), Coca-Cola BBQ Beef Ribs ($29-with onions rings and herb creamed corn), Jumbo Lump Crab Cake ($14) and Pan Seared Branzino ($24-fire roasted ratatouille and garlic aioli)–the food was excellent. I will tell you, those beef ribs were worth the price of admission alone. Service was extremely competent. On the price front, not exactly one of Jeff Eats' cheaper-dates, but I did mention at the top of this story, that this was a "semi-upscale" joint, didn't I?
Lola's is open Sunday 5pm-9pm, Tuesday-Thursday 5pm-10pm, Friday-Saturday 5pm-11pm, closed on Monday.