The Life–(Delray Square Performing Arts- Delray Beach)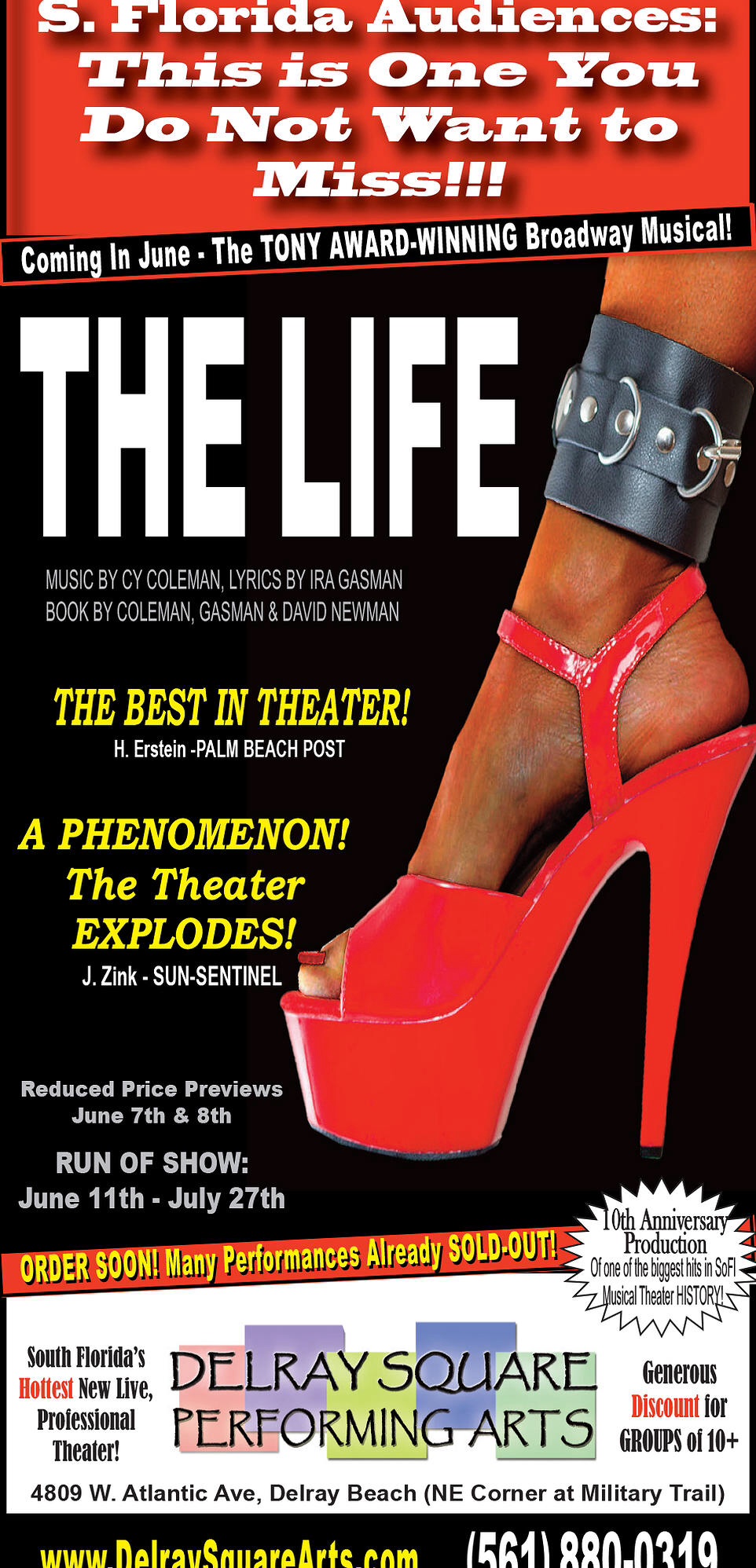 * The Life.
Way back on May 13th- Jeff Eats told you guys about The Life which was set for a June 11th-July 27th run at the Delray Square Performing Arts in Delray Beach. I just wanted you guys to know that Jeff Eats and Mrs. Jeff Eats caught Opening Night- and this play is an absolute must see. Look! I'm no Clive Barnes, but I do know when I have been thoroughly entertained for 120 minutes by an intriguing storyline performed by strong actors/vocalists/dancers.
Trust me on this one, you will love this show…
Jeff Eats highly recommends that you spend some time with The Life.
*****
May 13, 2014.
* The Life–(Delray Square Performing Arts).
The Life…trust Jeff Eats on this one, you don't want to miss– The Life.
Jeff Eats and Mrs. Jeff Eats saw the 2004 Florida production and it was a fabulous show…we are planning on catching this new-production!
Printed below is a recent Sun Sentinel article about the show.
*****
"Cy Coleman's pulsating musical The Life is bringing some sizzle back to the South Florida theatre scene this spring and summer. The Tony Award winning musical will begin reduced-price previews at the brand new Delray Square Performing Arts on June 4th and will open for a limited run on June 11th.
The Delray Square production is directed by Gary Waldman, who along with his partner, Jamison Troutman also serves as a producer of the show. They were the team behind The Life's last visit to Florida (the first post-Broadway production World-Wide) – an extremely successful, eight month sold out run at the Atlantis Playhouse in 2004. The Waldman-Troutman Production received unanimous rapturous reviews and more regional award nods than any other (19-total, including Best Musical nominations in each ceremony). This will be the landmark, 10th Anniversary Revival of that historic production!
Coleman, along with lyricist Ira Gasman created a score full of intense and emotional songs depicting The Life on the Times Square streets of the 1980s – where everything had a price – especially sex. With a book by David Newman, Coleman and Gasman, the play follows the harrowing experiences of a good-hearted hooker named Queen, her cocaine-addicted boyfriend Fleetwood, her friend and fellow street-walker Sonja, hustler JoJo, crime boss Memphis and a host of other characters who have seen better days. Coarse language and sexual inferences add to the reality and grittiness of the play – but the characters and their situations intrigue and captivate. The Life opened at the Ethel Barrymore Theater in the spring of 1997 under the direction of Michael Blakemore. It ran for 450 performances and won several awards for "Best Musical" of 1997, including the Drama Desk Award, the Outer Critics Award, and the Drama League."