Another Broken Egg Cafe (Boca Raton)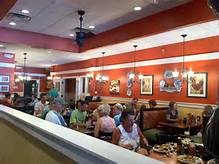 * Another Broken Egg Café, 508 Via de Palmas, Boca Raton, Florida 33432, (561) 405-6940.
Way back on May 30, 2014 Jeff Eats told you guys about-Another Broken Egg Café- a new "breakfast-lunch" restaurant that was getting ready to open in Boca Raton. A copy of that "story" is printed down-below.
This morning…Jeff Eats received an email from Another Broken Egg Cafe's PR-firm describing 3-pre-opening charity events for its new Boca Raton restaurant. That email is also printed below.
In a nutshell, on June 5th (9am-11am), June 6th (10am-1pm), June 7th (9am-1pm)…the public (that's you guys) are invited to eat FREE. You have to call (561) 405-6940 to make a reservation. In return for the free-food, Another Broken Egg Café is hoping that you'll make a donation to the designated charity–but nothing is mandatory.
In his day, Jeff Eats has been to his fair share of "Family & Friends" and pre-opening events…To be perfectly honest with you, I think that this 3-day charity "thing" is brilliant. In effect, Another Broken Egg Café gets to "dry run" its new Boca Raton joint- raise some bucks for three local charities- and generate a ton of local publicity all in one fell swoop. I LOVE IT! A real nice "variation on the old "Family & Friends" theme.
By the way, the Grand Opening is set for Monday, June 9th.
Just so you know, Jeff Eats will be there on Saturday, June 7th for breakfast!
*****
From: Tiffany E. Browne
Subject: Another Broken Egg Cafe Hatches in Boca Raton with Fundraiser
Message Body:
Good Afternoon Jeff,
Another Broken Egg Cafe' is pleased to announce the opening of its Boca Raton
location at 508 Vie De Palmas, Suite 76 taking place June 9th. Leading up to
the grand opening, ABEC will host three fundraising events June 5th – 7th. We
hope you will be interested in covering ABEC's community efforts and
egg-centric, breakfast, lunch and brunch menu for your audience. The first ABEC
was opened by Founder Ron Green in 1996 in Mandeville, Louisiana. This new
location will feature a full spread of dishes which has made ABEC an
awarding-winning restaurant in Florida and beyond. The Boca Raton location
will exclusively showcase a collection of mugs that feature the city's Old City
Hall with its iconic palm trees. Our full press release is posted below for your
convenience.
Sincerely,
Tiffany E. Browne
————————————-
For Immediate Release
Contact: Heather Freeman (800) 987-9806
heather@heatherfreeman.com
Another Broken Egg Café Hatches in Boca Raton
with Events to Raise Money for Three Local Nonprofits
Boca Raton, FL, (June 2, 2014) – Double R Restaurant Group is pleased to
announce the grand opening of its Another Broken Egg Café (ABEC) on Monday, June
9, 2014 in Royal Palms Place at 508 Via De Palmas, Suite 76, Boca Raton, FL
33432. This is the exciting debut of award-winning ABEC in the Boca area, and
it is part of Double R Restaurant Group's dynamic expansion effort in the
Sunshine State. Floridians interested in a sneak preview and wishing to support
three very worthy local causes can dine prior to the official grand opening
date. There is no charge for the public to attend these separate fundraising
events, and donations can be made via cash, check or credit card and will be
accepted for the featured nonprofits, each with its own special date. Those
wishing to support the Boca Raton pre-opening events must call 561-405-6940 for
reservations as seating is limited. Events are as follows:
Thursday, June 5th (9 AM-11 AM) will benefit the Gold Coast Down Syndrome
Association, a 501(c)(3) non-profit family support and resource organization
serving 350 families and dedicated to making the future brighter for individuals
with Down Syndrome and other disabilities in Palm Beach County, Florida. For
more information please visit
www.goldcoastdownsyndrome.org
Friday, June 6th (10 AM-1 PM) will benefit American Association of Caregiving
Youth (AACY®) which recognizes, supports, and promotes the awareness of dual
role youth that are both students and caregivers within their families. AACY®
strives to raise awareness through education, research and direct services in
cooperation with social, education, healthcare, government and community
corporations, organizations and agencies. For more information please visit
www.aacy.org
Saturday, June 7th (9 AM-1 PM) will support Dezzy's Second Chance Animal Rescue
which provides homeless dogs and cats in Palm Beach and Broward County with the
opportunity to find a new loving home. Located on the Boca Raton, Delray Beach
border, Dezzy's Second Chance is an Animal Rescue that prides itself on
connecting individuals and families with the pet of their dreams. For more
information, please visit www.dezzyssecondchance.com
Guests dining at Another Broken Egg Café will have plenty of tempting dishes as
the menu features fresh and nutritious southern-inspired dishes. There are six
varieties of eggs benedict, 11 gourmet omelette choices, an exceptional
signature Bananas Foster over Belgian waffles, French toast or sweet potato
pancakes, southern crabstack, biscuit beignets, along with handcrafted burgers,
specialty sandwiches and fresh salads. Each meal is carefully prepared to order
with the highest quality and freshest ingredients available.
ABEC menu prices range on average from $8 to $15 and for breakfast cocktails,
don't miss the mimosa, or the house specialty bloody mary priced at $5.99 each.
Furthermore, ABEC's Healthy Side menu, which includes granola, fruit & quinoa,
gluten free friendly jumbo pancakes, the skinny omelette, steel cut oats and
simply salmon, is also available at this location.
ABEC mug collectors will also look forward to finding historic Boca Raton Old
City Hall, with its iconic palm trees, on the hand-thrown stoneware used for
coffee service and hot beverages. Each ABEC location has its own distinctive
symbol on the American made design, which is produced in various colors year
round.
Double R Restaurant Group is based in Lafayette, LA and is dedicated to opening
restaurants that represent value, with a focus on fresh and comforting food.
Double R operates multiple concepts and currently has 15 ABECs operating in
Georgia, the Carolinas, Florida and Louisiana. Double R has plans for an
additional six locations to open in 2014, and recently announced its South
Florida development agreement to develop 40 locations over the next 10 years.
Each new ABEC creates approximately 30 new jobs in the community. Double R is
currently searching for qualified candidates in all regions to join their
experienced team. Please visit www.dblrrestaurants.com for more information.
Another Broken Egg Café is an award-winning restaurant and a leader in the
morning restaurant sector with 36 restaurants to date across the southeast
United States, California and Indiana. Ron Green founded the first ABE Café in
1996 on Girod Street in Old Mandeville, Louisiana. The restaurant serves from 7
A.M. through 3 P.M. seven days a week, closing only on Thanksgiving and
Christmas with all major credit cards accepted. For more information about the
restaurant locations, the history of ABEC and complete menus, please visit
www.anotherbrokenegg.com
*****
May 30, 2014
* Another Broken Egg Café, 508 Via de Palmas, Boca Raton, Florida 33432.
Real quick story…
Jeff Eats has a good buddy who lives in Winter Park, Florida.
The other day, he told me about- a breakfast-lunch chain-Another Broken Egg Café that had recently opened in Winter Park. To say that he raved about his breakfasts/lunches- would be an understatement.
To be perfectly honest with you, before my buddy's "heads-up" Jeff Eats had never heard of Another Broken Egg Café.
Anyway,
Jeff Eats' "research" turned-up that Another Broken Egg Café currently has 9 Florida locations (34 total) with huge Florida and national expansion plans in the works. For our "immediate"-purposes, sometime in the next 2-weeks- Another Broken Egg Café is set to open in Boca Raton. Check www.anotherbrokeneggcafe.com for menu/prices-locations.
Like I said before, Jeff Eats hasn't been to Another Broken Egg Café…that said, I got plans to check-out the Boca Raton joint–when it's up and running. For what it's worth, Another Broken Egg Cafe's website/Facebook page have some absolutely dynamite "food" pictures- if the actual food tastes just-half-as good as those photos, this chain may really have something cooking (pun intended).
Just thought that you guys would like to know about a new joint–headed for Boca Raton.
One other piece of business, the Boca location plans to be open 7 days a week from 7am-2pm