Fork & Balls (Fort Lauderdale)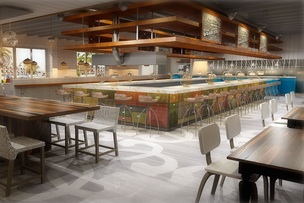 * Fork & Balls, 1301 East Las Olas Boulevard, Fort Lauderdale, Florida 33301, (954) 771-2257.
Got a heads-up for you guys…sometime in the next 2-3 weeks a joint name Fork & Balls is set to open on East Las Olas Boulevard.
Fork & Balls is the brainchild of-The Restaurant People Inc.–that currently owns and operates YOLO (Fort Lauderdale), Tarpon Bend (Coral Gables) and Sun-Surf-Sand (better known as S3 in Fort Lauderdale).
Here's the skinny,
Last night Jeff Eats and Mrs. Jeff Eats ate dinner at YOLO. If you check, I did a story on YOLO on February 7, 2009…suffice it to say, back then Jeff Eats loved the food etc., singling out its MEATBALLS–for special praise. Anyway, last night's meal was right on the money–and the meatballs were once again dynamite. To make a long story short, talking with YOLO's folks- I learned that The Restaurant People Inc. is getting ready to open Fork & Balls…an Italian joint which "plays" to the meatball crowd–all kinds of meatballs (beef, chicken, vegetable, turkey, lamb) partnered up with all types of pastas-vegetables-sauces-sliders-sandwiches…with loads of beers and wines on tap.
Now here's, my thinking on Fork & Balls–this restaurant could prove to be a huge winner.
The logic,
YOLO kills.
Buddies in the "biz" told me that-Tarpon Bend and S3 also kill.
Apparently -The Restaurant People Inc. know exactly how to create/operate successful restaurants.
YOLO's meatballs kill.
Now, I could be dead wrong on this call, but from what I see, hear, read, tasted–I think that Fork & Balls is gonna kill (I know, enough with the "kill" stuff).
So there's your heads-up.
Finally, Jeff Eats plans to "try" Fork & Balls and we'll see if the proof is in the pudding–I mean sauce!-or for you "purists" out there, gravy!
I know that some of you guys don't like to strain yourselves, so the original YOLO story is reprinted below.
*****
***** YOLO, 333 East Las Olas Boulevard, Fort Lauderdale, Florida 33301 (954)523-1000.
Last night I caught comedian, Jackie Mason's show at the Broward Center. The next time he "comes around" don't make the same mistake. Oh Jackie…time to retire. Anyway…before the show, had dinner at a relatively new ( 4 months old) "American Style" restaurant named YOLO…which is short-hand for You Only Live Once.
At this juncture let me send you to YOLO's website www.yolorestaurant.com for menu/photos/details.
Got to this joint at 6:10pm and its inside & outside bars were PACKED…great looking-stylish 25-35 crowd. So if you are 25-35, you now know about Fort Lauderdale's latest hot-spot.
Now for the rest of us, let's talk FOOD (all of a sudden, I'm writing like Jackie Mason talks)…In addition to a couple of "specials" the menu consisted of 5-appetizers, 5-salads, 5-sandwiches, 10-entrees and 5-desserts. My "taste-test" consisted of meatball sliders, California spinach salad, beef tenderloin, rotisserie chicken and bbq pork ribs…I will tell you, that the ribs were some of the best that I have eaten "down-here" in South Florida and if the meatball sliders weren't 4 bucks a pop, I could have eaten 6 of them…they were absolutely dynamite. The California spinach salad was delicious… large enough for 2. The rotisserie chicken and beef tenderloin were good, but not in the same league as those ribs or sliders. By the way, the entrees came with 2-sides…I had mashed potatoes and cole-slaw, they were just fine.
If you check this joint's website, you will find photos…so you'll know that this is a real-sharp…modern-decor joint. Personally, I found the lighting a bit too dark…but the super-modern bathrooms are gorgeous.
Let's wrap this one up. Great looking joint. Very good food. Very good service. Price-point…Appetizers $6-$11…Salads $8-16…Sandwiches $11.50-$17.50…Entrees $16-30…Sides $4…Desserts $7.
YOLO does lunch and dinner 7-days a week.
I really enjoyed this joint. On this particular Friday Night it had "great energy" and very good food. Oh, to be 25-35 again!!!!