Neighbors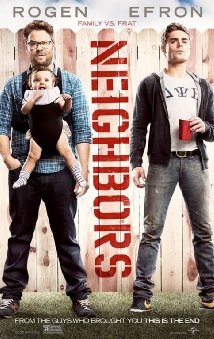 * Neighbors.
Not trying to be Rex Reed or nothing, but last night Jeff Eats saw the new film -Neighbors-and I gotta tell you-that it was one of the funniest pictures that I've seen in years.
The best way to describe -Neighbors…the 1978 classic Animal House- updated to 2014.
If you have a decent sense of humor, I dare you to tell Jeff Eats that you didn't laugh your-ass off watching this film.
Since Jeff Eats is after-all a food blog at heart–the large popcorn and box of Milk Duds I had were delicious-and the counter folks were as pleasant as could me. Price wise-captive audience prices.
Go see Neighbors!