Dick's Last Resort (Orlando, Panama City)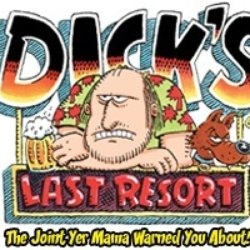 ***** Dick's Last Resort, 8201 Vineland Avenue (Orlando Premium Outlets), Orlando, Florida 32821, (321) 329-3002.
Dick's Last Resort is a "small" sports bar chain…it currently has 17 US- locations with 2 Florida joints, namely Orlando and Panama City.
The other day, Jeff Eats and family ate in Dick's Orlando restaurant.
Amazingly, even Jeff Eats a "wizard with the spoken word" has a hard time describing Dick's Last Resort.
Full bar, loads of tvs, just passable sports bar food—and waiters/waitresses that- scream at, insult, joke with, harass and annoy customers…
When you check www.dickslastresort.com you'll find menu/prices/locations/other info on interactive-entertainment.
The best way to wrap this, some folks are gonna love Dick's and some folks are gonna hate Dick's. You either go- for sophomoric humor or you don't.
Personally, Jeff enjoyed the "entertainment" to a point–but the mediocre-cheeseburger/French fries/chicken wings/salads/pulled pork sandwich wouldn't get me back for a return visit.
The suggestion here-despite my misgivings, give Dick's Last Resort a shot—the way I see it-a chain with 17 locations just may be doing something right–and just maybe, Jeff Eats isn't seeing this one "correctly."–Don't think so, but just maybe!