Palisades Park
* Palisades Park.
For you "now" Floridians who maybe traveling or visiting- this Palisades Park-thing could be just what the Rock N Roll Doctor ordered: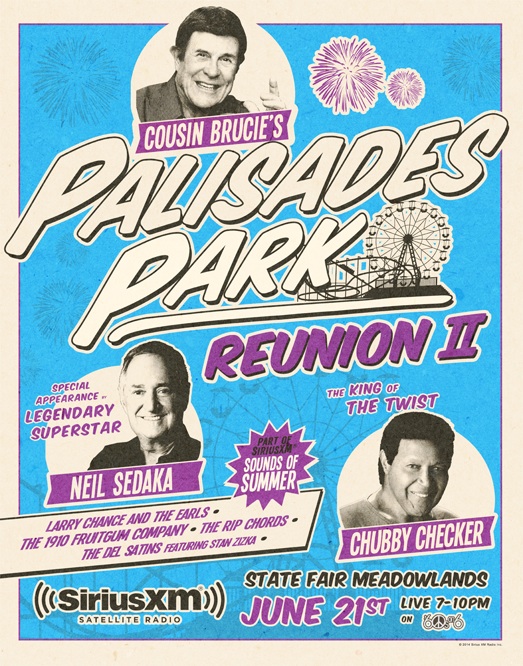 State Fair Meadowlands welcomes back the legendary radio personality and current SiriusXM radio host as he brings along Neil Sedaka, Chubby Checker and other pop icons for a reunion concert on June 21; fans can come early and attend a State Fair car show with vintage autos
State Fair Meadowlands today announced the return of legendary radio personality Bruce Morrow – known to his legion of fans as "Cousin Brucie" – as he hosts "Cousin Brucie's Palisades Park Reunion II" at State Fair Meadowlands on June 21 at 7 pm. The evening will include performances broadcast live on SiriusXM's '60s on 6 channel, from artists who entertained audiences at Palisades Amusement Park in the 1960s, including international superstar Neil Sedaka, "The King of The Twist" Chubby Checker, Larry Chance and The Earls, The 1910 Fruitgum Company, The Rip Chords and The Del Satins featuring Stan Zizka.
Concert-goers can come to the fair early in the day, from 2 pm, and enjoy the 50s Forever Car Show, featuring vintage autos and trucks from the '40s, '50s and '60s, as well as over 70 rides, entertainment and 50+ food vendors.
"The utter joy that Cousin Brucie's Palisades Park Reunion brings to fans and fairgoers promises to build on the smashing success of last year's show, igniting feelings of nostalgia and pure delight as we remember and pay tribute to the iconic artists who helped define an entire era of rock 'n' roll," said Al Dorso, president of State Fair Meadowlands. "We are truly delighted to be hosting Cousin Brucie once again. Combined with the 50s Forever Car Show, June 21st promises to be a day full of nostalgia for music lovers and fairgoers alike."
The Cousin Brucie event and the 50s Forever Car Show are both FREE with entry ticket to the fair, which is $10 for those 13 and older, and $8 for children 12 and younger. Children under 34" are admitted free.
"I can feel the roller coaster…I can smell the cotton candy….and I can hear the people. This is where we grew up – Palisades Park," said Cousin Brucie. "It lives!!!!"
Wearing his famous leopard-skin suit, Brucie prowled the big stage at Palisades Park, which operated from 1898 to 1971 on the edge of Bergen County, overlooking Manhattan. At Palisades Park, thousands of Brucie fans enjoyed performances by the biggest names in rock 'n' roll history. This year's Palisades Park Reunion will celebrate the historic amusement park and the shows that Brucie hosted there while fairgoers enjoy the sounds of the '60s, acres full of exciting rides, and the vintage cruise-in car show to really get the vibes going.
Cousin Brucie hosts Cruisin' With Cousin Brucie on Wednesdays at 5:00 pm ET and Cousin Brucie's Saturday Rock and Roll Party on Saturdays at 8:00 pm ET on '60s on 6, via satellite on channel 6, and through the SiriusXM Internet Radio App on smartphones and other connected devices, as well as online at siriusxm.com.
State Fair Meadowlands is the largest fair in the New York metro area, with over 150 rides and attractions on over 35 acres of fairgrounds. The fair will feature more than 50 food vendors, including favorite "fair fare" such as delicious Jersey pizza, Greek gyros, burritos, corn dogs, curly fries, corn on the cob, turkey legs, funnel cakes, candied apples, deep-fried Oreos, ice cream and more. Entertainment is free with entry ticket; fairgoers can enjoy all-day access to live music concerts, the Racing Pigs, the Big Cat show, the Shark Bait comedic juggling show, hypnotist Steve Bayner and, for the first time this year, an Open-Air Circus featuring a real live human arrow and high-wire acts. Fairgoers also won't want to miss taking a ride in the Batcopter, the original helicopter from the 1960s TV series, as well as the Skyride, an all-time family favorite.
Fair hours are Monday through Thursday, 6 pm to midnight; Fridays 6 pm to 1 am; Saturdays 2 pm to 1 am; Sundays 2 pm to midnight. On opening Dollar Night, June 20, the fair is open 5 pm to 1 am. On Thursday, July 3, the fair is open 6 pm to 1 am; on Friday, July 4 from 2 pm to 1 am. Parking is free Monday through Wednesday, and $5 Thursdays through Sundays. Opening night, parking is just $2. The fair will be offering free shuttle buses from/to Secaucus Junction. Visit www.njfair.com for more information and a list of Bargain Days.