Jazziz (Boca Raton)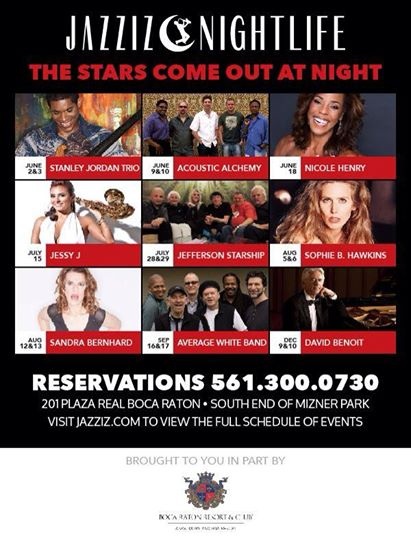 * Jazziz, 201 Plaza Real, Boca Raton, Florida 33432, (561) 300-0730.
Jazziz in Boca Raton…upscale restaurant-music venue.
Just so you know, Jeff Eats has yet to eat "there" -but has seen a number of terrific local/national bands and music artists on its stage.
A quick heads up, sometimes there are ticketed events/cover charges and other times complimentary music…so be sure to check the joint's website to see what's doing on any particular day. I'll give you Jazziz website at the bottom of this story.
I got upcoming plans to try the-food…
Just a quick observation, as far as Jeff Eats is concerned–the name Jazziz is a bit misleading (maybe "confusing" is a better term). When I hear the name Jazziz, I think JAZZ, like -all the music played there is jazz. But au contraire–Jazziz- entertainment scheduled is as eclectic as it gets. To the point, I seriously doubt that anyone would consider the Jefferson Starship or Sandra Bernhard to be jazz-performers. Same goes for-recent appearances by Grammy winner Christopher Cross or local rockers- Solid Brass with its Chicago like-horn section! Like I said 3 seconds ago, haven't-yet eaten at Jazziz, but I gotta tell you, this joint is great looking and has a sound/stage setup that makes for some real-nice partying.
In reviewing Jeff Eats' PR mail, I spotted two really cool acts that are booked at Jazziz…Jefferson Starship (July 28-July 29 2014) and Sandra Bernhard (8/12-8/13 2014) and trust me, you definitely want to see both acts. For what it's worth, Jeff Eats has seen the latest Starship lineup-and it puts on a dynamite show…I've also seen Bernhard's show and the lady is an absolute trip.
You can check www.jazziz.com for restaurant-menu/entertainment-schedule-tickets.
There is an old Taiwanese saying that "The Early Bird Catches The First Worm"– with that in mind, if you want to see this show(s)- you can catch tickets before most people even know that Bernhard and Airplane (oops-I meant Starship) are coming.
As we get closer to these shows, Jeff Eats will have more to say about Jazziz- lineup.