La Luce (Orlando)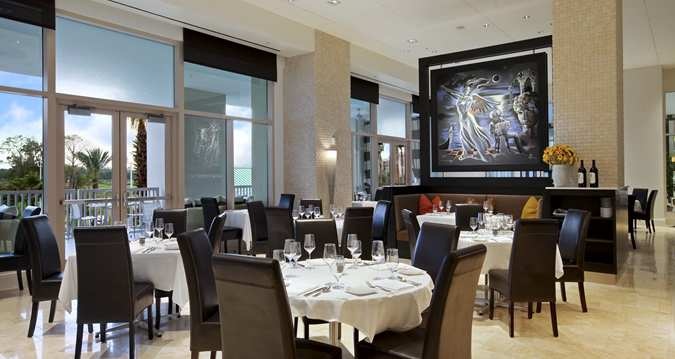 La Luce, Hilton Orlando Bonnet Creek, 14100 Bonnet Creek Resort Lane, Orlando, Florida, 32821, (407) 597-3601.
Last night Jeff Eats (party of 6) ate at La Luce -an Italian restaurant located in the Hilton Orlando Bonnet Creek Hotel.
Just so you know, La Luce was "selected" in that Jeff Eats had a $300 Hilton -food/beverage credit that had to be used.
Real simple-
La Luce is your "typical" hotel- Italian restaurant- overpriced with mediocre food. If this joint wasn't tied to/housed in -a hotel and had to fend for itself-my money says it wouldn't last very long. Trust Jeff Eats on this one…hotel location, expense accounts, hotel "deal" promotions are what keeps La Luce in business.
Last night's dinner- plain pizza, lasagna, ribeye steak, meatballs, chicken fra diavolo, lamb shank…just passable.
Printed below is La Luce's "hype" on Hilton's website www3.hilton.com.
All Jeff Eats can say- Hilton has some great copywriters..,
*****
LA LUCE®
La Luce®, created by renowned Napa Valley chef and restaurateur Donna Scala, is the signature restaurant of Hilton Orlando Bonnet Creek. Italian traditions meet Californian innovation in the cuisine at La Luce®, to create a perfectly balanced menu of thin crust pizzas, family-style pastas and meat and seafood specialties. The menu changes seasonally, showcasing the finest local ingredients in the classic Italian way – hearty yet with a simple elegance.
The cuisine, inspired by the types of dishes that have been handed down by Italian families for generations, is recreated with a modern twist and presented with style, to create an unforgettable dining experience. Select from the extensive Trattoria-style wine list or choose a Mediterranean-influenced cocktail as the perfect accompaniment to your meal.
Whether it's a romantic dinner for two, a family celebration, or dining with friends, sit back and savor your meal overlooking the sparkling lazy river pool. Every month, this Italian restaurant in Orlando displays the work of local artists, creating a unique, inspiring atmosphere to enjoy fine family-inspired Italian cuisine.
La Luce® also offers a private dining room – perfect for intimate get-togethers, family reunions and special occasions. Please call 407-597-3600 to make a reservation.
Book a table
ORIGINAL ART
The perfect complement to a sumptuous feast is inspiring art. Each month, La Luce® displays the work of several local artists in celebration of the sensory, treating guests to art that is as fresh and contemporary as the cuisine. If we eat with our eyes first, consider the original art your first course. Dine with us often to see what's new.
AWARDS & RECOGNITION
Recognized for excellence in cuisine and wine, this Orlando, Florida Restaurant has achieved awards and recognition. Recent accolades include:
Wine Spectator – Award of Excellence – 2012
Orlando Sentinel FOODIE Awards – Critics' Choice – Best Hotel Restaurant – 2011