T & W Subs & BBQ (Cutler Bay)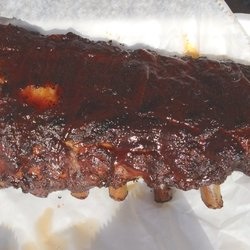 ***** T & W Subs & BBQ, 18683 South Dixie Highway, Cutler Bay, Florida 33157, (305) 235-8708.
First things first…Jeff Eats loved T & W Subs & BBQ in Cutler Bay.
T & W has 2-rooms…1- is a fast food "sub" joint…1- is a beer-bar with tvs.
Real easy concept…order/pickup at the counter. There is booth and table seating.
Now, nothing for nothing–Jeff Eats' college days (Ithaca College, 1966-1970) are long past…that said, I am telling you, YOU put a T & W Subs & BBQ in any college town in the USA and YOU got a homerun.
Seriously, I can't conceive of- a college kid not loving the food/bar setup that T & W's got! For that matter, unless you're some Fancy Dan–I can't think of anyone who wouldn't enjoy this no frills beer bar/sub-bbq joint.
You can check T & W Subs' menu/prices at www.twbbq.com. To save you some time–grilled/fried chicken wings, bbq brisket/pulled pork/chicken/ribs, hot/cold subs, burgers, salads, sides, desserts.
A recent outing had Jeff Eats "doing"–garlic parmesan grilled wings (7-$6.99), 1/3 rack of baby back ribs/French fries/ mac & cheese /corn bread ($7.99), pulled pork sub (small-$6.79)–now, no fooling here the food is amazing-good. Just between you, me and the lamppost, I definitely could handle T & W at least 3-4 times a week.
Just so we are straight, absolutely- positively nothing fancy going on at T & W Subs & BBQ…that's why it's a natural for guys like us and every college kid in America.
T & W Subs & BBQ is open Monday-Saturday 8:30am-9pm, Sunday noon-7pm.