Athena By The Sea (Lauderdale by-the-Sea)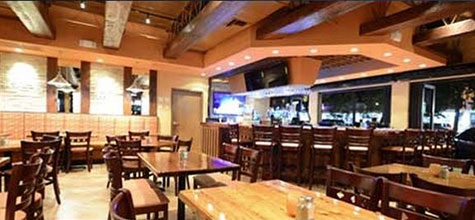 ***** Athena By The Sea, 4400 North Ocean Drive, Lauderdale by-the-Sea, Florida, 33308, (954) 771-2900.
Got a very good Greek joint for you…Athena By the Sea.
Just so you know–real casual joint located 1-block from the beach-so your tee shirt/shorts/flip flop ensemble is the dress of the day.
Athena By The Sea has a full service bar area and indoor booth/table seating. On Saturday nights it has an outdoor- stage-setup which hosts some of South Florida's best /oldies/rock/tribute bands.
Like I said 3 seconds ago, Athena By The Sea is a Greek joint–that said, its menu has loads of non-Greek stuff like chicken parmigiana, bbq ribs, hamburgers, chicken wings, pizza. fish & chips–so don't worry if you got some non-Greek eaters with you, they- absolutely won't starve!
A recent dinner outing of- Jeff Eats, Mrs. Jeff Eats and another couple had us doing…broiled lamb chops, gyro platter, moussaka, pastitio, oven roasted lemon potatoes/orzo, Greek salad and I gotta tell you, everything was right on the money–and the joint's pita bread, tzatziki and hummus were delicious.
You guys now know about a real-casual Greek joint that definitely gets the job done.
For the "tourists" out there, sorry Athena By the Sea doesn't do the indoor table dancing and breaking plates "thing."
Let's go back to something that I mentioned…on Saturday nights starting around 6:30pm–the joint really starts to jump with live bands outside. Over the years, Jeff Eats has seen the crowds "drawn" by the music and sometimes it gets real crowded–trust me it's all good!–and a- load of fun.
Jeff Eats just checked–REPLAY (www.replay-band.com) a terrific party band is playing at Athena By The Sea on May 24, 2014 and June 21, 2014—so there you go!
In any event, no matter what day or night you "do" Athena By The Sea–I think you'll be happy that you "did"!
You can check menu/prices/other stuff at www.athenabythesea.net.
The joint is open Sunday-Thursday 10am-1am, Friday-Saturday 10am-2am.