0ld Jews Telling Jokes (Broward Stage Door Theater -Coral Springs)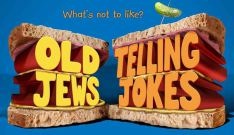 * Old Jews Telling Jokes -Broward Stage Door Theater, 8036 West Sample Road, Coral Springs, Florida 33065, (954) 344-7765.
Here's a heads-up for you guys…
Last year Jeff Eats caught "Old Jews Telling Jokes" during its Off- Broadway run. No fooling here, one of the funniest shows that I have ever seen. By the way, the New York show as SRO.
Anyway,
Old Jews Telling Jokes is coming to Coral Springs- The "show" is- set for a 11/1/2014-1/4/2015 run at the Broward Stage Door Theater.
Jeff Eats is telling you, DON'T MISS IT! No question in Jeff Eats' mind that the production will be a sell-out!
Checkout the theater's website www.stagedoortheatre.com for details.
Tickets can be purchased by phone or at the box office.
Once again, I'm telling you…GO!
Printed below is the theater's description of the show.
*****
Old Jews Telling Jokes: November 1st, 2014 – January 4th, 2014.
Theater 1
Get ready for an outrageous evening of one-liners, double-entendres and hysterical routines sure to triple you over with laughter! OLD JEWS TELLING JOKES showcases five actors in a comedy that pays tribute to and reinvents classic jokes of the past and present. The show also features comic songs—brand-new and satisfyingly old—as well as tributes to some of the giants of the comedy world and to the Old Jews Telling Jokes website, which inspired the show. Like rye bread, kosher pickles and bagels, this show is for everyone! You'll laugh 'til you plotz.