Falafel Gourmet (Coral Springs)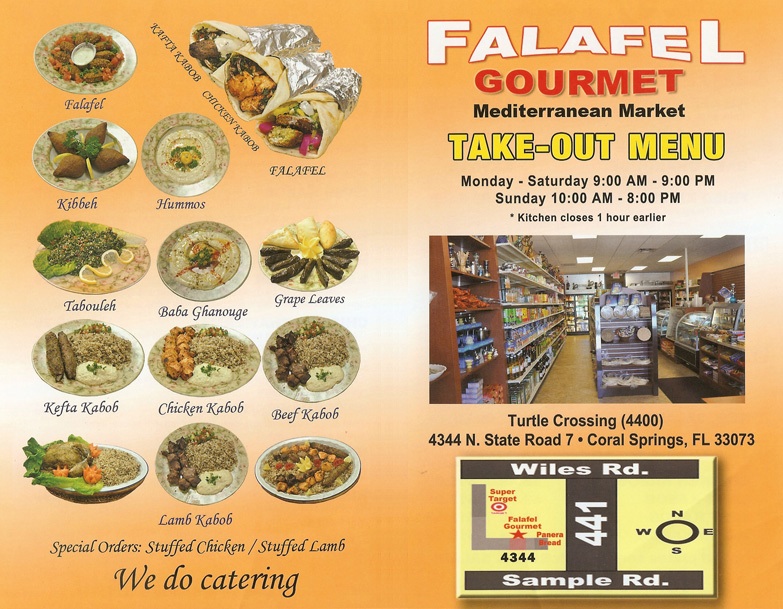 ***** Falafel Gourmet, 4344 State Road 7, Coral Springs, Florida 33073, (954) 752-8340.
Falafel Gourmet is a Mediterranean Market…the joint has a handful of outdoor tables where "prepared food" can be eaten.
Jeff Eats has been a steady-customer since 2009 in that Falafel Gourmet is my go to place for hookah flavors/supplies…and if you believe that, I got this bridge in Brooklyn that I want to sell you!
Anyway,
To make this story easy, Jeff Eats has "attached" Falafel Gourmet's Take-Out Menu which includes appetizers, salads, sandwiches, plates.
A recent outing had me "trying" spinach pie, falafel, beef kabob pita sandwich–and I gotta tell you, Falafel Gourmet makes delicious stuff.
To wrap things up…
Falafel Gourmet is basically a Mediterranean grocery store–it also makes dynamite food that can be taken-out/or eaten outside on the sidewalk.
Falafel Gourmet is open Monday-Saturday 9am-9pm and Sunday 10am-8pm.