Gallagher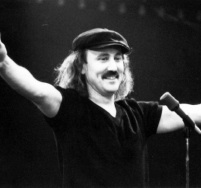 * Gallagher.
Jeff Eats has seen this legendary-comedian twice. Both times, I laughed my ass-off while wearing a raincoat.
Gallagher is retiring and is currently on a "farewell tour."
Gallagher has 4-Florida appearances scheduled…at Visani Restaurant & The Comedy Zone, 2400 Kings Hiway, Port Charlotte, Florida 33980, (941) 629-9191–July 2nd (2 shows) and July 5th (2 shows).
You aren't getting any younger- nor is Gallagher.
If you haven't seen him-live…you owe it to yourself to do so (Is this proper English?).
You can check www.visani.net for tickets/other stuff.