M.E.A.T. Eatery & Tap Room (Islamorada, Boca Raton)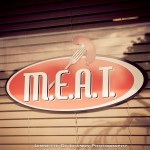 * M.E.A.T. Eatery & Tap Room.
In recent months, a number of people "raved" to Jeff Eats about M.E.A.T. Eatery & Tap Room in Islamorada, Florida. The raves–great burgers, fries, beer, bbq.
Just so we are straight, Jeff Eats has never been to– nor eaten in M.E.A.T.–but I will tell you, it's an absolute pain in the ass to type M.E.A.T.
Anyway,
This afternoon, Jeff Eats learned from his buddies at BurgerBeast www.burgerbeast.com that- in a couple of weeks, M.E.A.T. is opening a second location in Boca Raton at 980 North Federal Highway. After getting the "scoop" Jeff Eats visited the Boca site-which is on the ground floor of an office building/booths & tables are actually in the lobby…real cool configuration-but I'm not so sure this "setup" is gonna work in Boca Raton-time will tell! One other thing- nothing for nothing, based on what Jeff Eats saw- there is no way that this "construction site" will be ready in two weeks… But then again, Jeff Eats thought that McGovern was going to trounce Nixon. We'll see!
You now know as much as I do about M.E.A.T.
You can check www.meateatery.com for menu/prices/other stuff.