Greek Islands Taverna (Fort Lauderdale)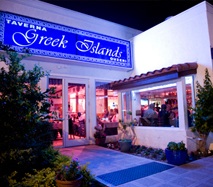 ***** Greek Islands Taverna, 3300 North Ocean Boulevard, Fort Lauderdale, Florida 33308. (561) 565-5505.
Not exactly sure as to exactly how long Greek Islands Taverna has been around, but Jeff Eats first ate there…some 22 years ago. By the way, back then I wasn't -Jeff Eats (Mister, does this make sense?- courtesy Jackie Mason 1985). If I recall correctly, I thought that the food was just-ok but definitely nothing special going on at the joint.
In the ensuing 22 years, I've heard nothing but rave reviews about this Greek joint.
Nothing for nothing, until last night–that first dinner was the only meal that Jeff Eats had done at Greek Islands Taverna.
Anyway,
Last Sunday night I bumped into an old friend Steve S.–who raved and raved and raved- about Greek Islands Taverna. It was Steve's raving-that got Jeff Eats to Greek Islands Taverna last night for dinner #2.
Décor-wise…think- a large Brooklyn Greek Diner and you'll be good.
You can check www.greekislandstaverna.com for menu/prices.
Now- for the "second dinner"…
Greek salad, char-broiled lamb chops, gyros, moussaka- now-nothing for nothing Jeff Eats just doesn't get it–that's the rave reviews. The Greek salad/gyros/moussaka were good, but nothing that I can't get elsewhere–as for the lamb chops, they were so lemony, I had to send them back to the kitchen and get an order sans the lemon.
The call here…Greek Islands Taverna was ok-but for people to be "carrying-on" about how great it is…NO WAY JOSE!- or should I say -NO WAY NICKALAUS!
Greek Islands Taverna is open Monday-Saturday 11am-10:30pm, Sunday noon-10pm.