Bruno's Italian Restaurant (Kissimmee)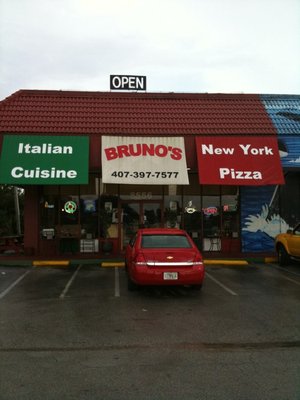 ***** Bruno's Italian Restaurant, 8556 West Irlo Bronson Memorial Highway, Kissimmee, Florida 34747, (407)397-7577.
Do you remember as a kid, spelling Mississippi with just one eye? For some reason Kissimmee-got Jeff Eats thinking about that.
Anyway…
Got a -good "mom & pop" red sauce Italian joint for you guys…Bruno's Italian Restaurant in Kissimmee.
Now- just so we are straight with each other, nothing revolutionary going on here.
Solid enough- veal parmigiana, chicken parmigiana, pizza, baked ziti, shrimp scamp, garlic rolls… entrées (salad/pasta side/garlic rolls) run $9-$16–large 16″ pizza fetches 13 bucks.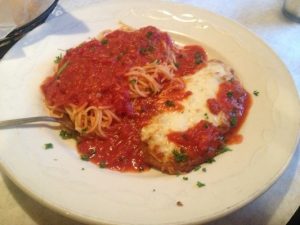 To paraphrase the famous Cuban philosopher-Ricky Ricardo…"the best way to 'splain'" Bruno's–a real good place to know about- having already ridden Dumbo-and going for your lungs for 4-1 Day Magic Kingdom Tickets.
In all seriousness, if Bruno's was in my neighborhood–Jeff Eats would definitely be a pretty steady eat-in/take-out customer.
You can check menu/prices/photos at www.brunos192.com.
Bruno's Italian Restaurant is open 7 days a week 11:30am-11pm.