Eddie & Sam's New York Pizza (Tampa)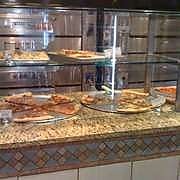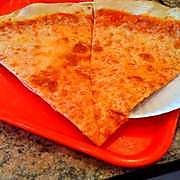 ***** Eddie & Sam's New York Pizza, 203 East Twiggs Street, Tampa, Florida 33602, (813) 229-8500.
Real simple concept…order at/pickup at the counter…pizzas, pastas, salads, heroes. The joint has both indoor and outdoor table seating.
You can check menu/prices at www.eddieandsamspizza.com.
Eddie & Sam's "bubameiser" (some of you guys may have to use Google-here) is that its pizza is made with water imported from New York.
Anyway…
Jeff Eats and Mrs. Jeff Eats recently did dinner at Eddie & Sam's and I gotta tell you, the joint makes a delicious thin crust/crispy/sweet sauce pizza. Just as important, Eddie & Sam's- Chicken Roll (chicken parmigiana wrapped in pizza dough), Sausage Onion Green Pepper Roll (grilled onions, green peppers, sweet sausage, mozzarella cheese wrapped in pizza dough) and Caesar Salad were delicious.
Let me sum things up for you…Eddie & Sam's food is real-good and "specials" like 2-slices/Coke for $5.99 are right on the money (pun intended).
Now that you know about a real good pizza joint in Tampa–let me turn my attention to this NYC water thing.
Long story short, there are countless people who "argue" that it's NYC's tap water that makes pizza in NYC so good…these same people also claim that NYC tap water is what makes NYC bagels so good…
Now…
Jeff Eats was born in Brooklyn in 1949. Jeff Eats lived in Brooklyn from 1949-1979 and in Manhattan from 1980-1991-and has literally eaten in 100s of pizza joints in Brooklyn, Queens, Bronx, Staten Island, Manhattan and I gotta tell you, that I can distinctly remember eating numerous slices–that were absolutely horrendous-lousy-crappy-terrible-inedible–so just maybe this NYC tap water story isn't-all that it's cracked-up to be. Now Jeff Eats could be wrong here–but perhaps- the quality of the dough/sauce/cheese/oil/ingredients/type of oven used/and who the pizza maker is–plays a huge role in how good that slice ends up.
Not looking to burst anybody's Advertising Campaign or nothing–but this NYC tap water-thing has literally become part of America's pop culture–sort of like Big Foot, you know–it may exist, but then again maybe not.
One quick observation, on its website Eddie & Sam's says-that New York water is used–it doesn't say NYC tap water is used. Capice! You can call me Ray and you can call me Ray Jay, but don't call me Eagle Eye Jeff Eats!
To wrap things up…
Eddie's & Sam's New York Pizza is a winner–no matter what- water it uses!
The joint is open Sunday, Tuesday-Thursday 11am-10pm, Friday-Saturday 11am-11pm, closed on Monday.