Foster's Grille (Royal Palm Beach, Cape Coral, Fort Myers)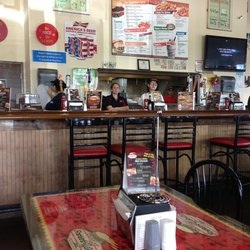 ***** Foster's Grille, 11071 Southern Boulevard, Royal Palm Beach, Florida 33411, (561) 333-6720.
Foster's Grille…small franchised fast food "burger" chain with locations in Virginia, North Carolina, Maryland–currently 3 in Florida
Real simple menu– char-grilled burgers, sandwiches, hot dogs, fries, onion rings, salads, shakes, beer. Order at the counter/food delivered to you. Booth, table, counter seating.
A recent lunch had Jeff Eats "doing"- cheeseburger, Philly cheesesteak, French fries, onion rings, chocolate shake. The "verdict" good-stuff.
Now, you know and I know that the "upscale" fast burger segment is starting to get really crowded down here in South Florida…Foster's cool-southern diner decor made my meal that more enjoyable!
You can check www.fostersgrille.com for menu/prices/locations.
Give Foster's a try…
Foster's Grille is open Sunday-Thursday 11am-9pm, Friday-Saturday 11am-10pm.