Cowboy By Choice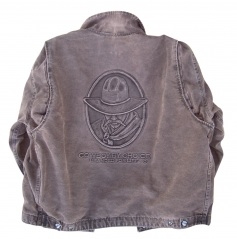 * Cowboy By Choice, 4301 Darrow Road, Stow, Ohio 44224, (330) 945-5393.
Long story short!
About a month ago, I was talking to a lawyer-friend of mind who lives in Cleveland. Haven't seen the guy in some 13 years–but every 6 months or so- we do some catching up on the phone.
Anyway, we got to talking about JeffEats.com and he asked me if I had ever heard about an Ohio company named- Cowboy By Choice…that makes -bbq sauce, mustard, coffee, other food items, clothing/home goods. I told him no–and he told me that he had tried Cowboy's bbq sauce/mustards and that the stuff was delicious… I told him, "that- he should stick to the law business" and that was that–until last Monday, when Jeff Eats received a package from him- which had 1 plastic bottle of bbq sauce, 2 plastic bottles of mustard and a man's canvas jacket with a Cowboy By Choice logo printed on its back.
Now,
After receiving the package, I called him-and asked him "So how come the package?"…He told me that he and some friends were thinking of investing in Cowboy By Choice–and he wanted my thoughts on the whole megillah (some of you folks may need to use Google).
With that in mind, take a look at Cowboy By Choice's website www.cowboychoice.com.
In a nutshell, Cowboy By Choice is trying to create a national life-style brand. Do you know what a long shot is?
Anyway,
Following the old -don't look a gift horse in the mouth-rule… last night, Jeff Eats had a bbq- trying the mustards on some grilled Hebrew National hot dogs and the bbq sauce on babyback ribs/chicken wings–and I gotta tell you, Cowboy's stuff was real-good. Now, you know and I know, that it would be nuts to try and describe what- the mustards and sauce tasted like (although there are tons of food critics and bloggers who do exactly that)–so I won't, but trust me–if the mustards/sauce were sold for example in "our" in Publix–I'd be a buyer. In checking with my friend, Cowboy By Choice's only Florida penetration to date- has been Lucille's Bad To The Bone BBQ in Boca Raton (see Review 4/29/08) which recently ordered its Buckin' Hot Sauce.
Look! Jeff Eats has absolutely no idea if Cowboy By Choice can "really" develop into a PLAYER…What I do know, is that its mustards and bbq sauce were delicious By the way, the canvas jacket–is the cat's meow.
Just thought you guys would enjoy an "interesting" story–and if one day by chance- you see Cowboy By Choice products on Publix shelves–you'll smile and say boy!- I sure wonder what Jeff Eats' friend ended up doing!