Dreamette (Jacksonville)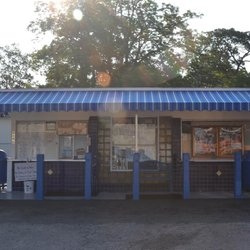 ***** Dreamette, 3646 Post Street, Jacksonville, Florida 32205, (904) 388-2558.
Every city/town-has a legendary "this or that"…from what Jeff Eats understands- Dreamette is Jacksonville's legendary soft-serve ice cream joint.
Dreamette has been around since 1948.
It is housed in a stand-alone "shack."
You order at/pickup at the window.
There is very limited outdoor seating.
Dreamette features vanilla and chocolate soft serve and a plethora (like that word?) of toppings and flavored "dips" that coat the soft serve. It also has milk shakes and stuff like banana splits.
A recent outing had Jeff Eats doing a chocolate soft serve covered in a peanut dip, Mrs. Jeff Eats doing a vanilla soft serve covered in caramel dip and a "joint-effort" of a chocolate soft serve with a strawberry dip. No fooling here, all 3-cones were amazingly delicious.
Like I said a few seconds ago, Dreamette has been around since 1948. Based on Jeff Eats' birthdate this joint was in business before I was even a twinkle in my parents' eyes. Based on the what I saw, I seriously doubt that Dreamette's exterior has been remodeled or fixed-up since 1948–which makes the joint even cooler to Jeff Eats way of thinking.
The best way to sum Dreamette up…delicious soft serve/in a real McCoy old location.
Jeff Eats loved Dreamette which is open 7 days a week noon-8:30pm.